Background:
East Suffolk and North Essex foundation Trust have developed a model of planned associated learning; building on the concept of Hub & Spoke placement allocation, to both improve the learning experience for students as well as increasing the placement capacity.
Developing planned associated learning through Hub & Spoke provides greater access to specialists, resources and opportunities, which can enable the students to gain a greater depth and breadth of knowledge, skill and experience. Providing a greater planned diversity of leaning opportunities provides parity to all students and supports attainment of clinical procedures identified in Future Nurse Standards (2018a).
Overall project objectives include:
1. To enhance the students practice learning experience and opportunities
2. Increase access to and participation in clinical procedures required in the Future nurse standards
3. Increase placement capacity
Methodology:
Utilising a Hub & Spoke model enabled us to increase capacity, by linking underutilised small specialist (spoke) areas to wards traditionally used for long student placements (hub). By planning for each student allocated to the hub ward to spend time in the spoke area, we were able to increase the capacity without having too many learners in the hub area at the same time.
The Practice Education Facilitator (PEF) team worked with the clinical teams to plan hub and spoke areas, which follow the patient journey as well as developing more planned learning opportunities. It was important that we considered placements as not only within a physical space, but as associated guided learning.
Hub & Spoke allows registered practitioners to work together more closely with shared responsibility and interest in student learning to improve skills and knowledge, the quality of our practice delivery and learning achieved. Considering the new NMC Standards for Supervision and Assessment (NMC 2018), our Practice Assessors can be based in a Hub or a Spoke environment, whilst all areas will have professionals acting in Practice Supervisor roles.
A spoke can be identified as an associated environment or a focused theme:
An associated environment
Infographic 1 shows an example of being in different places with different professionals within patient journey.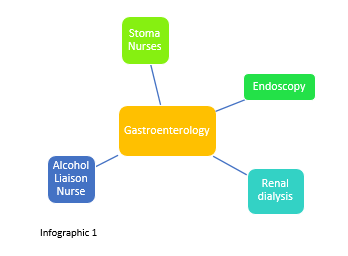 These are determined by staff who understand how the student journey can mirror the patient journey, with the support of the PEF team to co-ordinate initial communication, planning and development of resources.
A focused theme
Infographic 2 shows an example of being in the same or other places with a defined theme to focus on for 'spoke' week.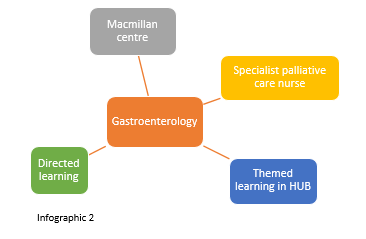 To support the facilitation of student learning, particularly in themed spokes. The PEF team have developed a suite of education resources, with input of relevant specialists e.g. workbooks and the provision of electronic tablets with educational apps.
Learning and future work:
Developing Hub & Spoke 'planned associated learning' requires careful planning and co-ordination. Utilising a Hub & Spoke model has resulted in:

• Planned associated learning for all students in hub areas.
• Co-ordinated coaching within defined learning opportunities.
• Increased breadth of understanding of the patient journey within healthcare services.
• Increased depth of empathy towards patients – increased opportunity for developing therapeutic relationships.
• Increased depth and breadth of learning relating to roles and inter-professional working.
• Increased engagement by registrants with consequential improved registrant / student relationships.
• Increased involvement from more specialist areas and specialist practitioners, not only with students but also other practitioners.
• Increased belongingness, person centered care, clinical skills, and professional role development.
• Enhanced the students practice learning experience by shifting the emphasis from a university dictated regime to a more collaborative learning experience where the supervisor and student would be free to shape the students learning experiences.

And of course we are also able to increase placement capacity!

We have started planning the implementation of this model across maternity and are due to commence roll out on our other in-patient and community sites. Currently evaluations are captured as part of the hub allocation through university student evaluations. In our next phase we will capture student evaluation of specific spoke areas and associated learning.