Introduction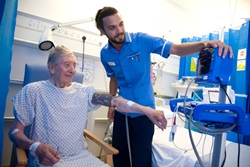 This resource has been developed as a practical guide for nursing staff, including registered nurses and nursing support staff. It provides examples and scenarios for managing nursing decisions related to consent.

The broad principles of the law of consent are the same in all parts of the United Kingdom, but there are differences between countries in several matters of detail. The resource currently reflects the situation for Scotland.

Complex and rare situations, such as those that go to court, will be touched upon, but not explored in depth.

There are related topics on consent not specifically covered in this resource which require separate and specialist guidance.