Immunisation services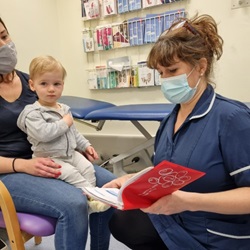 The routine vaccine schedule given to children and vaccines for travel will generally need more time and people often value the convenience of attending local primary care facilities and value being able to see trusted general practice nurses, GPs, health visitors and others they see for their wider health care needs.

Vaccination in schools has long been a mainstay of vaccination services in the UK supported by school nurses and school immunisation teams. This enables the administration of the vaccines recommended for school age young people and children at convenient times in convenient locations.

The COVID-19 pandemic, and the delivery of mass vaccination for the COVID-19 vaccines, has led to many novel and innovative settings being used for vaccination; sports and leisure centres, places of worship, community centres, health care centre car parks and even temporary structures such as gazebos have been deployed to increase the availability and maximise space for vaccine delivery.
The UK immunisation and vaccination schedule is designed to protect the population from vaccine preventable disease. The UK policy and strategy are set out in Immunisation against infectious diseases, the Green Book. This provides policy guidance on; vaccine administration, storage and disposal of vaccines, and reporting alongside information about all the vaccines given in the UK and how these should be administered. All immunisers must be familiar with the guidance in this document for the vaccines they are administering and must access the Green Book online as the resource is frequently updated to reflect the most up to date schedule and advice.
Immunisation relies on a high and sustained uptake of vaccines to make sure the diseases they are designed to prevent do not circulate in the population. We know from experience that falls in immunisation rates lead to increases in cases of vaccine preventable diseases and deaths.
The routine immunisation schedule sets out the vaccines which should be made available to everyone in the population at the point at which they will most need or benefit from the protection. This needs to be used alongside the Vaccination of individuals with uncertain or incomplete immunisation status to identify what vaccines people need where they have missed some or all the vaccines they are eligible for.
This RCN guidance outlines the key principles for maintaining effective delivery of the national immunisation schedule, as well as large scale vaccine delivery. It provides information on how to make sure services are safe and meet the needs of the population. See the 'Top Tips' and further information section.
For further country specific information see:
England: UKHSA immunisation collection
Northern Ireland: HSC PHA Immunisation/vaccine preventable diseases
Scotland: Public Health Scotland Immunisation
Wales: Public Health Wales Immunisation and Vaccines