Bronagh Scott
Chair
Bio coming soon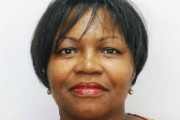 Christine McKenzie
Facilitator of Professional Learning & Development
As a senior nurse Christine is passionate about nursing and working with others to improve the experience of those who use and work within Health and Social care settings. Christine inspires the trust and confidence of those she works with, keeping a clear focus on their goals and sculpts bespoke solutions. She has extensive experience of developing leadership capabilities of individuals, teams and across organisations.
Christine supports, inspires and develops others to reach their potential, she cares passionately about the growth and development of people, and creatively maximises opportunities to broaden their experiences and skills. Christine is recognised and valued for her ability to support individuals, teams and senior leaders to focus on conversations that really matter, however sensitive they are, and to make recommendations that deliver transformational and sustainable change.
Christine draws on her work as a Psychodynamic Psychotherapist and NLP Master Practitioner in designing and implementing tailored engagement and consultation activities. Her achievements include collaboration with the NHS Leadership Academy, working with senior system leaders to advance the Mary Seacole Steering group and leading on the RCN Clinical Leadership Programme. Christine divides her time between England Centre for Practice Development and the Royal College of Nursing where she is the Professional Lead for the Executive Network (interim) and Professional Learning and Development Facilitator for London Region. In her spare time Christine enjoys Cycling, Running and scrapbooking.
Page last updated - 19/03/2021