Revalidation is a process that all nurses, midwives and nursing associates (England) are required to undertake every three years to renew their registration with the NMC. You can use this guide to find revalidation information resources including books, reports and journals.
Key Resources
RCN: Revalidation
Find out about the requirements of revalidation, what you can do to prepare and how the RCN can support you.
View page
Nursing and Midwifery Council (NMC): Revalidation
NMC: Revalidation: Coronovirus (Covid 19): Information and advice
Nursing and Midwifery Council (2019?) Revalidation. Annual data report. Year 3: April 2018 to March 2019, London: NMC.
Nursing and Midwifery Council (2019) Independent evaluation of revalidation for nurses and midwives. Year three report, London: NMC.
Nursing and Midwifery Council (2018) The Code: professional standards of practice and behaviour for nurses, midwives and nursing associates, London: NMC.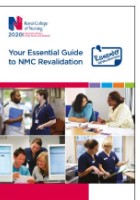 Royal College of Nursing (2020) Your essential guide to NMC revalidation. London: RCN.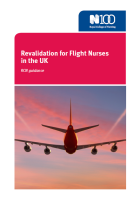 Royal College of Nursing (2016) Revalidation for flight nurses in the UK: RCN guidance, London: RCN.
RCN: Career resources
RCN: Nursing careers resource
This careers resource, which has been jointly developed by the Royal College of Nursing and Health Education England, will help registered nurses and the clinical support workforce across the UK plan their health careers effectively
View page
Journal articles
Use these links to see details of journal articles on each topic.
Explore
Advance HE: Fellowship
Fellowship demonstrates a personal and institutional commitment to professionalism in learning and teaching in higher education. Across four categories, from Associate to Principal, Fellowship provides individuals with recognition of their practice, impact and leadership of teaching and learning. HEA Fellowships are embedded in the UK and have been adopted by increasing numbers of higher education institutions globally.
View page
Health Education England and National Institute for Health Research (NIHR) Integrated Clinical Academic Programme
Personal research training awards for healthcare professionals who wish to develop careers that combine clinical research and research leadership with continued clinical practice and clinical development.
View page
This subject guide relates to:

Caroline Lynch
Editor of this guide
RCN Library and Archive Service
Upcoming events relating to this subject guide
01 Jun 2022

Online

In the third Journal Club, RCN Wales' Education and Lifelong Learning Adviser, Michelle Moseley, will be facilitating a discussion on Clinical Supervision, acknowledging the difficulties of achieving widespread implementation, and exploring its use in supporting nursing teams within practice. You do not need to be based in Wales to join us for this event!
Page last updated - 08/07/2021