Nursing is a diverse workforce caring for an increasingly diverse population.
We are all different, and nurses see those differences every day, more intimately and personally than most. Here at the RCN Library and Archive, we have begun the task of ensuring that this richness is recorded in history, expanding our collection to reflect this diversity. This journey has led to the exploration of previously untold stories, from the contributions of D/deaf nurses, to the experiences of Black, Asian and Minority Ethnic (BAME) nurses working in the UK, through to networks of Lesbian, Gay, Bisexual and Trans (LGBTQ+) nurses.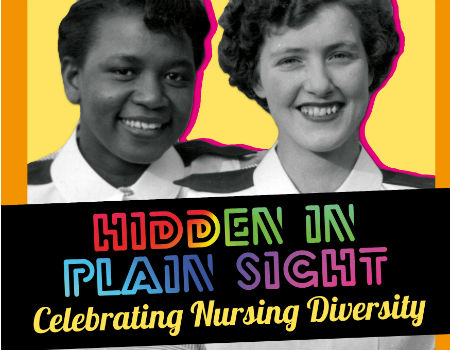 We have been asking nurses how personal experiences enhance their work as a nurse. What richness do nurses as individuals bring to patient care? Or perhaps, some personal life choices may be simply incidental to one's work as a nurse. Here is a snapshot of stories that reflect the true diversity of nursing past and present.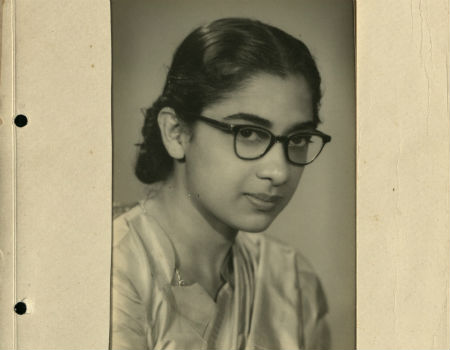 Uma Halder (nee Dutta), 1953. RCN member Uma described herself as belonging to 'a very ancient family of Calcutta.' She left her home for London in 1952 and trained as a nurse at Hammersmith Hospital. Our archive contains many papers belonging to Uma, including letters she sent from Calcutta back to the General Nursing Council, thanking them for the opportunity to train in the UK.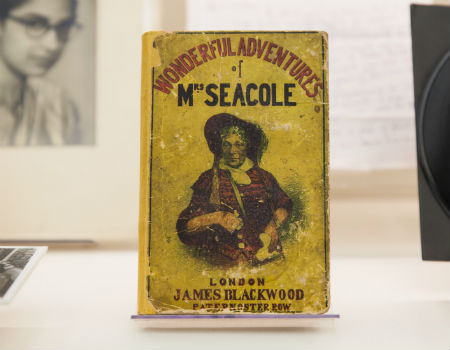 This is an original copy of Jamaican nurse Mary Seacole's 1857 autobiography Wonderful adventures of Mrs Seacole in Many Lands. When the War Office refused her request to work as a nurse in the Crimean War, she went anyway, and set up the 'British Hotel' to care for soldiers.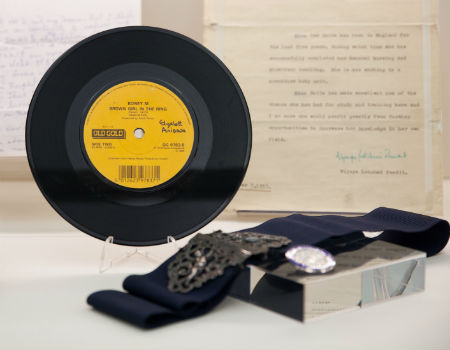 As well as looking to the past in our archives, we have heard the stories of current RCN members and nurses working now. Here is a 1978 Boney M vinyl belonging to Professor Dame Elizabeth Anionwu, who remembers the lyrics so well as she felt like the 'brown girl in the ring.' Also pictured are a belt buckle and badge, loaned to us by Dr Lola Oni OBE, specialist sickle cell nurse.
Dr Lola Oni came to the UK from Lagos, Nigeria, in 1965.
"My mother had no faith in me completing the training because I was so feisty and mouthy! But my Aunt had so much faith in me that she gave me my belt buckle as soon as I went to nursing school, before I even qualified. She said 'You'll be wearing this someday' and I couldn't let her down."
Nurse and Professor Dame Elizabeth Anionwu was born in Birmingham of Irish and Nigerian heritage. Elizabeth says
"Bony M's track Brown Girl in the Ring reminded me that, until I was 18 and came down to London, I was always the only black child. I was the brown girl in the ring."
Many nurses recruited from overseas were directed to State Enrolled Nurse (SEN) training. As an SEN or 'pupil nurse', two years training was required, as opposed to three years for State Registered Nurse (SRN). The differences between the roles and responsibilities of SENs and SRNs made many enrolled nurses eager to extend their training to SRN.
Often, new recruits would arrive in the UK alone, supported by colleagues in the same position. Nurses' homes formed a strong base for tight friendships to grow.
Whilst many nurses would only accept State Registered Nurse (SRN) training, others found that Enrolled Nurse training was right for them. Helen Cherry became deaf at four years old and for her, SEN training gave her the start she needed in nursing.
"There's a solution to everything. Brighton School of Nursing said to me 'Let's focus on what you can do and give you the opportunity to do pupil nurse training.' Some people saw it as patronising but I saw it as a solution, to give me that jump start."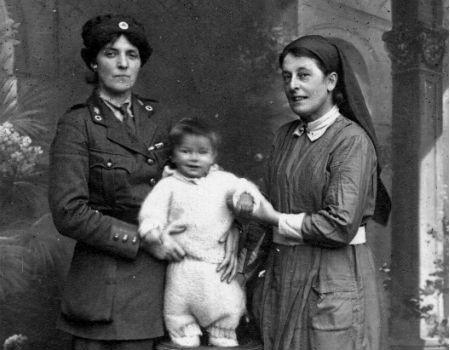 Lady Hermione Blackwood and Cathlin du Sautoy, with adopted son Victor Rene, 1926. Hermione and Cathlin met at Guy's Hospital. During their time together in France working with the Red Cross, they adopted Victor and his sister Yvette, both French orphans. The family returned to London in 1922 where Hermione and Cathlin spent the rest of their lives together in Hampstead. They almost certainly wouldn't have referred to themselves as lesbians since the term was not in everyday use. However looking back at the lives of these nurses, they clearly lived their life as a loving couple and formed a close family together.
Is sexuality incidental to our work? Or does it influence our relationships with colleagues and patients? LGBTQ+ networks are now common in the workplace and play a vital role in promoting equality in health care environments. Nurses are privy to some of the most intimate details of the communities they serve. Should health care professionals in turn disclose personal aspects of their own lives?
Dr Tommy Dickinson's ongoing study at King's College London begins in 1981, with the first reported AIDS case in the UK. His research has uncovered a proliferation of queer nurses choosing to work in HIV/ AIDS care, showing that many LGBTQ+ nurses were driven to 'look after their own.'
"Gay nurses were a godsend. I was just like, 'Oh, thank god, we've got a gay nurse.' Straight nurses were a mixed bag, but the gay nurses – gay men and lesbians – really were a godsend. There was a kind of unwritten understanding and compassion between us."
Sean, who lost his best friend to an AIDS related illness in 1996. Interviewed By Dr Tommy Dickinson, 2017.
"I felt I just had to do something – I couldn't sit back and watch as this vile syndrome wiped out my community. I suppose I wanted to look after my own."
Paaie, a nurse who identifies as a lesbian and worked on a specialist AIDS ward in 1990. Interviewed by Dr Tommy Dickinson, 2017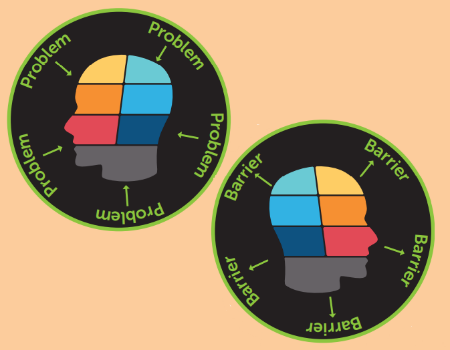 Nurses see disability every day in the patients they care for. This can skew their ability to acknowledge their own care needs. Many face unique challenges as they navigate barriers at work and in life. This is particularly difficult for those whose identity as a nurse is seen to be at odds with their disabled identity. The social model of disability has had a major influence on society's understanding since the 1980s when the term was coined. Before this, the medical model assumed that individuals were disabled by their impairments or differences. The social model says that individuals are disabled by society.
"We have probably all come across brick walls & barriers due to ignorance & lack of awareness…with the public putting us to fit into their box. This is where your own strength of character has to shine through at some point…I feel completely at ease with a disabled label if it helps me & others to be accepted & get on with our life"
Dawn, RCN Peer Support Service member, July 2017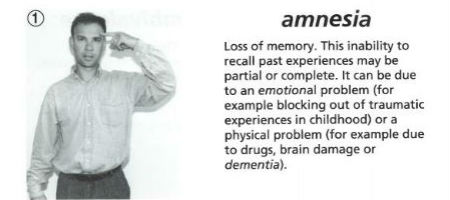 Deaf Advisor Herbert Klein demonstrates the sign for 'amnesia' in Sign language in mental health booklet, produced by the British Society for Mental Health and Deafness, 1997.
Thirty years ago, Deaf people were not allowed to work in mental health services in the NHS. After a decade of campaigning Deaf people were finally able to become professional clinicians. In 2004, Susan Eagling became one of the first Deaf BSL users to qualify as a nurse, alongside two others.
"I never thought I would be one of the first Deaf people to qualify as a nurse. I was just plodding on. Looking back, I was lucky to have had that opportunity, but it wasn't an easy course. We need to encourage more Deaf staff, and more hearing people who can sign."
Susan Eagling, one of the first BSL users to register as a nurse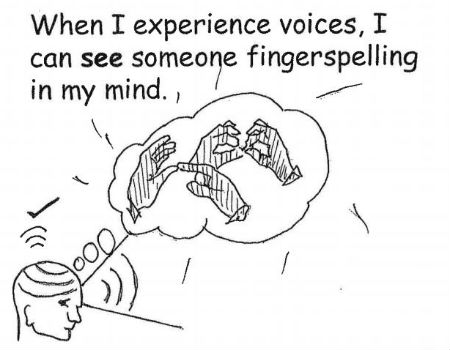 Having Deaf professionals is vital for accurate diagnoses of Deaf patients. This image is taken from a toolkit to identify Deaf peoples' experience of voices, developed by BSL user and Neuropsychologist Dr Joanna Atkinson. It helps to explain how Deaf people with schizophrenia can experience voice hallucinations. Deaf participants were able to identify how they heard voices, selecting images such as 'Voice uses writing' or 'Voice is silent'.
We have collected three oral history interviews with Deaf health care professionals, including Jackie Wan pictured here. Jackie is a Community Mental Health Nurse at South West London & St Georges Mental Health NHS Trust. These interviews are now held in our archive.
"For Deaf children born into hearing families…I'd like to see the families being proud and saying 'We've got one'… like a golden ticket … and feeling 'We know what to do!' I'd love to see that attitude in society."
Jackie Wan, Community Mental Health nurse, August 2017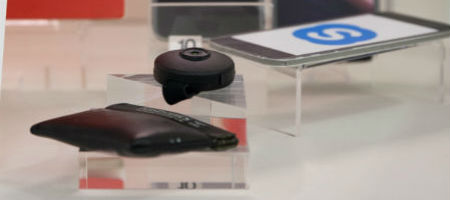 This telephone induction amplifier, c1978, belonged to nurse Helen Cherry, who is severely to profoundly deaf. She went through the transition from analogue hearing aids to digital, which transformed her communication. She says analogue aids were "just noise" whereas the sounds through her new digital aids "are almost like wrapped in velvet". Today, technologies such as Face Time, Skype and 'smart' hearing aids have transformed the way the Deaf community communicates.
Our aim is to carry on expanding our collection
So that the experiences of all nurses, from individuals to groups and communities, will help to inform the future of nursing. After another 100 years, when the Royal College of Nursing celebrates its 200th birthday, nurses of the future will be able to learn from the past, our present.
We want you to help. Everyone has a history and everyone's story counts. Get in touch with us and be a part of preserving nursing experience for the future. Drop us an email rcn.library@rcn.org.uk or visit this page.
See this exhibition on display at the RCN Library and Heritage Centre
Until March 2018. The exhibition is just the beginning of our attempt to fill the gaps in our nursing collection. It would not have been possible without the generous contributions of nurses, patients, researchers and RCN staff. Huge thanks go to everyone who shared their stories with us, for your time and knowledge, as well as generosity and enthusiasm for the project. Also thanks to RCN History of Nursing Society members Dianne Yarwood and Panagiotis Poimenidis who helped bring these stories together into a display for our members and the public to enjoy.