Key Resources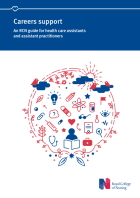 Royal College of Nursing (2015) Careers support: An RCN guide for health care assistants and assistant practitioners, London: RCN.
RCN: IELTS and OSCE exams
If you trained outside the EU or EEA, and want to register as a nurse or midwife within the UK, you will need to take your IELTS and OSCE exam. The RCN's careers service has put together some useful resources and links to help you understand and prepare for the exams.
View page
Royal College of Nursing (2015) Apprentices, trainees and nursing students: how RCN learning representatives can ensure a positive start to a young person's career in nursing, London.
Health Education England: Health careers