Animal Assisted Interventions
'Animals are used to help humans in different ways. Studies suggest that the effects of pet ownership can be beneficial to physical, social and psychological wellbeing. Research has found that stroking a pet can be relaxing and can result in a reduction in blood pressure. The presence of pets can also promote social interaction and reduce psychological responses to anxiety' Hall & Malpus (2000) Pets as therapy: effects on social interaction p. 2220. Use this guide to find information resources about animal assisted interventions including books, journal articles and reports.
Key Resources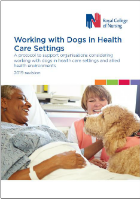 Royal College of Nursing (2019) Working with dogs in health care settings. A protocol to support organisations considering working with dogs in health care settings and allied health environments. 2019 revision. London: RCN.
Glenk L M (2017) Current perspectives on therapy dog welfare in animal-assisted interventions, Animals, 7(2), 7.
Jones M G , Rice S M, Cotton S M (2019) Incorporating animal-assisted therapy in mental health treatments for adolescents: A systematic review of canine assisted psychotherapy, PLoS One, 14(1), e0210761.
Rooney N J, Guest C M, Swanson L C M, Morant S V (2019) How effective are trained dogs at alerting their owners to changes in blood glycaemic levels?: Variations in performance of glycaemia alert dogs, PLoS ONE, 14(1), e0210092.
Winchester and Eastleigh Healthcare NHS Trust (2011) Animals within healthcare settings policy, Hampshire.
Pets as therapy
Hall PL and Malpus Z (2000) Pets as therapy: effects on social interaction in long-stay psychiatry, British Journal of Nursing, 9(21), pp.2220-2225.
University of Lincoln: Lincoln education assistance with dogs
University of Lincoln. The Blue Dog project: preventing dog bites in children, Lincoln: University of Lincoln.
Society for companion animal studies, SCAS.
Dogs for Good (2016) Annual report & financial statements for the year ended 31 December 2016, Banbury: Dogs for Good.
Assistance dogs UK: The law
University of Stirling: Paws for progress:
Yap E, Scheinberg A and Williams K (2017) Attitudes to and beliefs about animal assisted therapy for children with disabilities, Complementary Therapies in Clinical Practice, 26, pp.47-52.
Books
Book subject searches
Journal articles
Use these links to see details of journal articles on each topic. This will carry out a live search for articles.
Journals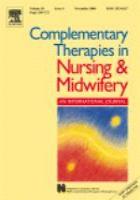 Journal titles of interest for pets as therapy include:

Kat Black
Editor of this guide
RCN Library and Archive Service
Page last updated - 10/01/2022