Key Resources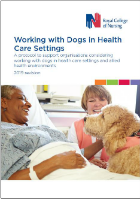 Royal College of Nursing (2019) Working with dogs in health care settings. a protocol to support organisations considering working with dogs in health care settings and allied health environments. 2019 revision, London: RCN.
Glenk L M (2017) Current perspectives on therapy dog welfare in animal-assisted interventions, Animals, 7(2), 7.
Winchester and Eastleigh Healthcare NHS Trust (2011) Animals within healthcare settings policy, Hampshire.
Somerset Partnership NHS Foundation Trust (2017) Animals in clinical areas policy (including therapy pets), Bridgwater.
NHS Evidence guidance searches: animal assisted therapy
NICE guidance is officially England only.
View page
Pets as therapy
Hall PL and Malpus Z (2000) Pets as therapy: effects on social interaction in long-stay psychiatry, British Journal of Nursing, 9(21), pp.2220-2225.
University of Lincoln: Lincoln education assistance with dogs
University of Lincoln. The Blue Dog project: preventing dog bites in children, Lincoln: University of Lincoln.
Society for companion animal studies, SCAS.
Dogs for Good (2016) Annual report & financial statements for the year ended 31 December 2016, Banbury: Dogs for Good.
Assistance dogs UK: The law
University of Stirling: Paws for progress:
Yap E, Scheinberg A and Williams K (2017) Attitudes to and beliefs about animal assisted therapy for children with disabilities, Complementary Therapies in Clinical Practice, 26, pp.47-52.