Following in his mother's footsteps
I am from North East Italy, near Venice. I never really knew what I was going to do in my life,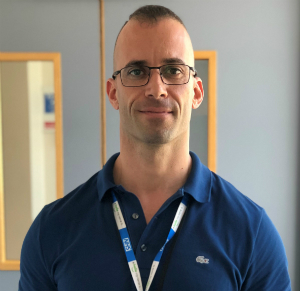 but I decided to become a nurse when I was about 23.
My mum was a nurse, the hospital environment was quite familiar - not scary, the opposite actually; I found it interesting. I thought I should try nursing because you help people, you can improve your communication – there are lots of aspects to it that help you as a person.

I studied in Italy for my Bachelors degree in General Nursing as well as a Masters degree in Mental Health in Community Services, so I'm dual-qualified. I worked as a nurse for four years in Italy in a psychiatric community service before I decided to come to the UK.
A trek across Europe
I found a job in Norfolk through an agency. I packed all my things, drove for three days and came here. I had a very cheap car, it was quite an adventure - sort of nuts! It was a big decision. I started working in Norfolk in a hospital near Great Yarmouth, on a surgical ward, and the impact it had on me was quite strong. I didn't find the local accent easy, but it gave me a good opportunity to know the system here and get used to English. It was a good start.
I moved to Cambridge, worked in Addenbrooke Hospital, which was very good experience because I worked in a speciality ward, with four specialties – ENT, Plastic and Reconstructive Surgery, Opthalmology and Maxillo Facial. I finally moved to London when I had the opportunity to join a research team. Research is completely different from the work in the ward. The focus was on mental health, and it was a multidisciplinary team. Slowly things changed and I started to focus on more clinical aspects. Eventually I started to work in UCL as a research nurse in HIV and STIs, and that's where I am now. I hope to continue my career in research.
Another side to nursing
I am a steward rep, I've done the foundation model and just started the steward module. It's fantastic because it's another opportunity to help and support colleagues but also to improve my skills and learn to go through things like bureaucracy – things you have to have knowledge of. It's challenging, but it's amazing. I read through the RCN website and thought, why not? As members we need to be active and we need to help each other. I've been a member of the RCN since I came to the UK.
Ending up in London
I've lived in London for two and a half years. I came here for the job opportunity, but I stay here because it's amazing! I'm quite glad that I learned a lot about the other reality of the UK: London can be like a microcosm and you don't move anywhere else. So I'm really glad I've seen a completely different side to society working outside of London.
There are plenty of opportunities here, you've got such a lot of things to do and there are always cultural events. Of course it's expensive, but there are such a lot of things to do that are free.
My favourite place in London is Regent's Park. It's really beautiful and I like running and doing sport. Away from London the best place I have been to is Iceland. If you like nature you have to go there. When you travel around the country, the landscape continually changes. It was amazing – volcanos, geysers, blue lagoons. Another planet.