Kafeelat on…
Self-belief
I was 19 years old when I decided to become a nurse. My dad tried to persuade me not go into nursing because of negative public perceptions.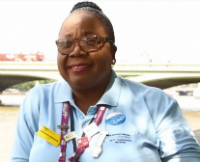 I was insistent that he should give me the chance to do what I felt was good for me and the people around me. I had applied to study both nursing and electrical engineering at university. As soon as I got the nursing offer, I thought "YES!" My lovely sister (who is a doctor) encouraged me, my mum was glad but my dad was still not happy that I'd gone for it. When he saw how committed I was he began supporting my choice of career, wished me all the best and prayed for me. When I graduated as a general nurse and completed my midwifery education a year after that, my dad was the proudest.
Compassion, empathy and care
I see nursing as a caring profession, and I am a naturally caring person. As a child all I wanted to do was look after and reassure vulnerable people. I wanted to go through the appropriate training to become a professional nurse so I could really make a difference in people's lives.
Every day is different. I try to go into each day full of energy and determination, and give my patients and their families the commitment and dedication they deserve. Every minute of my presence with my patient counts, just like every patient counts.
Developing as a nurse
When I started out I didn't expect there to be so many opportunities for progression and development. I've had amazing support from my mentors, GPs and nursing leaders. I started at my current Trust as a Senior Nurse Practitioner, and I am now a Community Matron with prescribing skills. I could not ask for more! I am very proud of the clinical skills I have achieved – my patients benefit and being able to work in the community helps avoid unnecessary admissions to hospital. I wouldn't trade my job for anything.
The city that keeps on giving
London is a busy city full of extraordinary people and very hardworking nurses. The diversity in the city helps with gaining knowledge and awareness of other cultures - understanding patients' cultures can be essential when dealing with medical issues. In London there are great opportunities for nurses willing to progress and learn - simply meeting all kinds of people is one way to learn. I love London.
Home comforts
Going to my patients' houses to assess and help with their needs is so rewarding. I have to look at their home environment, identify what they need and make referrals to provide the services required. I love that I can raise awareness of available community services and help provide access. Treating patients in their home promotes independence, makes them more comfortable and improves their health.
Dealing with patient's relatives in a soothing and caring way is essential in my role, as is having the patience to listen to their needs. Building trust with patients by providing listening ears and advocating for them is so important. I believe in looking deeper into patients' problems to see if there are non-clinical ways I can help. I always put my feet in the patients' shoes to see how they fit before I act, and try to put a smile on my patients' faces; it is impossible to solve their problems without doing this.
Who I was, am and always will be is a nurse.