Manda on
A childhood dream
I remember when I was eight I wrote a letter to Croydon General Hospital - we lived just round the corner at the time.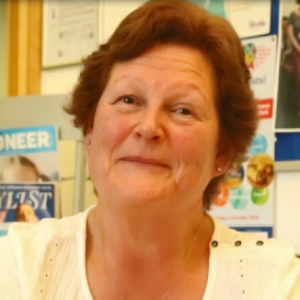 My mother didn't even know I'd done it. I walke
d around to the
ho
spital and took the letter there myself – your parents let you wander round to the local shops and things in those days. I'd asked my mother who was in charge of the hospital and she said, "Ooh the matron's in charge." So I'd written this letter to the matron: "Dear Matron, I want to be a nurse. Can you tell me what I need to do and give me some information?" I thought I could probably jump a few years of school and get into nursing, but of course I couldn't! She sent a lot of brochures to me, full of black and white pictures of the wards. And this really lovely letter, saying, "I'm really pleased you want to be a nurse, but you'll have to wait a few more years. Do contact us again in the future."
I went to boarding school. On weekends we had the opportunity to go and volunteer at the local hospital, so on a Sunday I used to go and help out in the children's ward.
It was always nursing.
Passion for her career
I do feel that when I started back in the 70s, although we still had that slightly subservient kind of attitude, we did have respect as nurses. We were really focused on how you would look after, talk to and be with patients.
I find it so sad when I hear people say "What do you do?" and the response is "I'm only a nurse". I feel like saying:
"You're ONLY a nurse!? How can you say that? What we do touches people's lives every single day, and the whole fact that we are nurses is because we have that compassionate personality; we want to help people, be part of something that makes a difference to other peoples' lives, and we should be proud. Everything we do has a consequence. People depend on us."
Taking an unexpected path
Funnily enough I never intended to become an anaesthetic nurse, and I have to be honest it scared the pants off me at first. But I discovered that anaesthetic nursing is the most interesting speciality. There's so much that happens to someone when they're under anaesthetic, the physiology is so exciting. But things can go wrong. That's why as an anaesthetic nurse you absolutely always have to be one step ahead of the game.
My whole emphasis is on making patients feel better. In theatres, they're so vulnerable. We put these patients under anaesthetic; they can't speak for themselves, so we have to be there to care for them and to speak up for them.
Going the extra mile
I was the chair of the British Anaesthetic and Recovery Nurses Association (BARNA) for many years – we had our meetings in London and everyone came from all over the country. It was quite exciting to be able to get your hands on people who were eminent in their own careers and bring them into what we were doing.
Having London at your fingertips is massive.
Becoming heavily involved in BARNA opened my eyes up so much; I learned about other departments, got people excited about the profession, ran conferences, and went abroad where I heard things I'd never heard before. I feel truly, truly blessed that I've been able to get so much out of anaesthetic and recovery nursing and bring it back to my workplace.
You really do get out of something what you put into it.