Parminder on…
Starting out
I was in school studying my A-levels and my Psychology tutor said: "Why don't you go and look at what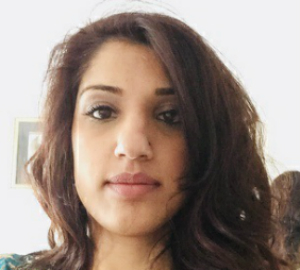 West London Mental Health Trust are doing?"
So I went to see them at the age of 17 and I asked if they did work experience. They didn't accept work experience, but said that I could work there or become a student nurse. I decided at the time I'd rather have a job so I started working part-time. Eventually I did go on to do my mental health nurse training through the Trust, and have never left!
Into the unknown
My first interaction with a patient was very scary, but actually made me really want to be a nurse. I was very young and I didn't know anything about mental health, but I remember being sat there with a patient and she was telling me what was happening for her in her head. It really made me think - actually there's so much more to this; mental health isn't as it's portrayed in the media and it's certainly not looking at people who are 'mad'. There's a fine line that we all tread and any one of us could be on the other side of the fence. I really felt I wanted to support people who were going through this.
When I first went into crisis work I realised that that's what I really wanted to do, in particular working with people with personality disorder. It's very challenging and very difficult, but I wanted to do something that took some effort, made some change and supported people. Mental health is already a taboo subject; personality disorder doubly or triply so, and I wanted to go into that area.
Making a difference
Now, as Safeguarding Adult Lead, I have a lot of influence in my organisation and I can do so much more. I can make sure that people with care and support needs are supported and protected from abuse or harm. I can make sure that as an organisation we have a better response towards all persons that have mental health problems.
Reaching out
I'm from a minority background myself and I know that a lot of cultures don't really recognise mental health as an actual illness - they see it as all sorts of different things. Where I work it's very diverse, and we get to go out into the communities to raise the awareness of mental health so that people in different communities can understand that it is an area that needs attention. There's a huge Indian community in the area I work in, and I speak Punjabi so that's really helpful – you can't always rely on interpreters.
London's appeal
I moved to London from Birmingham in 1990, so I've been here most of my life. All my mum's siblings were here and she wanted to be closer to them. There's so much choice, so much to do - you're never really bored. It might be too busy for some people, but I love it. I wouldn't be where I am in my career if I wasn't in London - it does have more opportunities. New York is my absolute favourite place in the world – probably because it feels like an extension of London. I love it here and I'd never go anywhere else.