RCN steward and safety rep Billy Nichols talks about his work advocating for equality and awareness of LGBT+ people in nursing
My own experience of being LGBT in the workplace has been difficult. I was completely "out" as a gay man when I lived in London after qualifying as a nurse many years ago but moved to be closer to my parents and started working in Wales.
People at work were very nosy about my personal situation and would use casual homophobic language. I felt unable to reveal my sexuality and became more reserved at work.

My job performance became affected as I felt I couldn't be myself. Workplace issues led me to getting in touch with the RCN. A year later I decided to get more involved with them and became a steward. After this, I felt more supported and able to "come out" at work. I felt like myself again.
Because of that experience and then being a member of equality and wellbeing groups within my health board, I started raising the issue about staff networks as my organisation didn't have any. I became involved with setting one up for LGBT colleagues.
The idea of the network is to give peer support to LGBT staff, provide a way for other staff to raise their own workplace issues, raise awareness, and advise the organisation on policy and practice. As chair of the network, I highlight our network on my employer's intranet and we use social media to flag events and resources. I know it's been helpful for our LGBT staff and allies to have a place where they can share and meet others with helpful advice.
There's greater understanding and tolerance in my workplace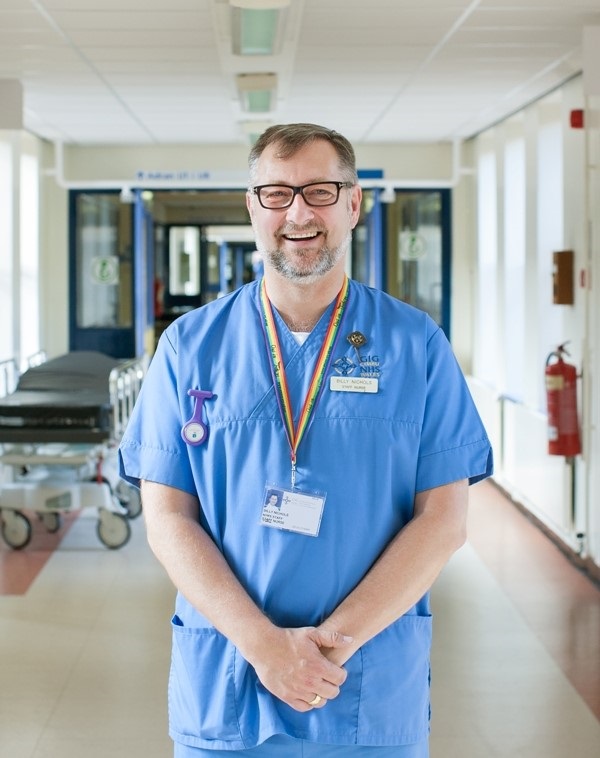 Billy at his workplace
Since the creation of the network I've seen the advancing of more equality in the workplace. There's greater understanding and tolerance. We have rainbow lanyards that staff wear and we're in the process of developing a rainbow badge. We've designed a handbook that went to every ward on the care of LGBT patients and have rainbow window stickers around the hospital saying we're inclusive and accepting and it's a safe place. For the last five years, my health board has ranked in the top 100 workplaces in the Stonewall top employers for LGBT people.
I see Pride events and all the workplace networks around the UK as very important. Within the RCN, I attend the LGBT member network at RCN Congress and look at ways to include equality, LGBT and diversity issues on the Congress agenda. It's about raising the profile of LGBT equality, not just for staff, but for our patients too.