News
RCN responds to Prime Minister's resignation
New Health Secretary 'must rise above the mayhem' and show his support for nursing staff with an immediate and substantial pay rise.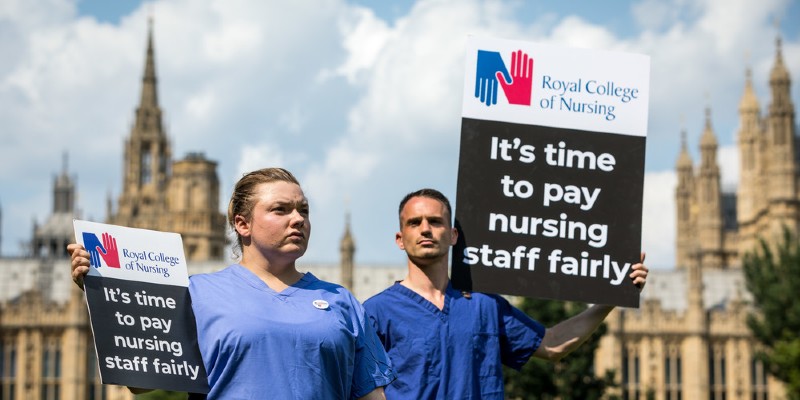 Connect with us:
The RCN has today (7 July) responded to Prime Minister Boris Johnson's resignation, calling on new Health Secretary Steve Barclay to prioritise making the right decision on the next NHS pay award.
RCN General Secretary & Chief Executive Pat Cullen said: "A political vacuum now exists at a time when nursing staff providing care and treatment against all odds face unrelenting pressure and a workforce crisis.
"Patient care and safety is being jeopardised and a cost-of-living disaster is forcing many of those same staff to turn to food banks opened by their employers.
"The incredible hardship our members face is in no small part down to a decade of pay cuts.
"The new Health Secretary must rise above the mayhem and indicate his support for nursing with an immediate and substantial pay rise, already three months overdue."
Steve Barclay MP was appointed Health Secretary yesterday (6 July) following the resignation of Sajid Javid MP.
Sending a strong message to the minister, Chair of RCN Council Carol Popplestone said: "His imminent decision on NHS pay will send the first and greatest signal on the relationship Mr Barclay wants with his health and care workforce.
"If he doles out another real terms pay cut before his feet are properly under the desk, our professionals will immediately lose faith in him.
"We urge him to listen and then act. Our members face incredible hardship. This dire situation is driving people out of nursing and adding to the staffing crisis.
"His action in the next few days can begin to turn the tide for these people who give so much of themselves to their work and the nation's health."
Pat has also written to Mr Barclay setting out her expectations on behalf of members.
She stressed the need for an above inflation pay rise for NHS Agenda for Change staff to begin to address the high number of nursing vacancies and improve patient safety.
Pat also urged him to create a meaningful workforce plan that increases government accountability for having enough nursing staff to meet demand in England.
She emphasized the impossible situation members find themselves in when faced with choices about the scale of risk and harm due to severe staffing shortages.
There needs to be urgent action to address the sharp increase in experienced nurses leaving the profession and the disproportionate reliance on international recruitment with insufficient investment in the nursing workforce, she concluded.