News
RCN Wales Publishes Nursing in Numbers 2021 Report Revealing Current Workforce Statistics
Nursing under pressure - Figures reveal that every week nurses give the Welsh NHS an additional 34,284 hours in overtime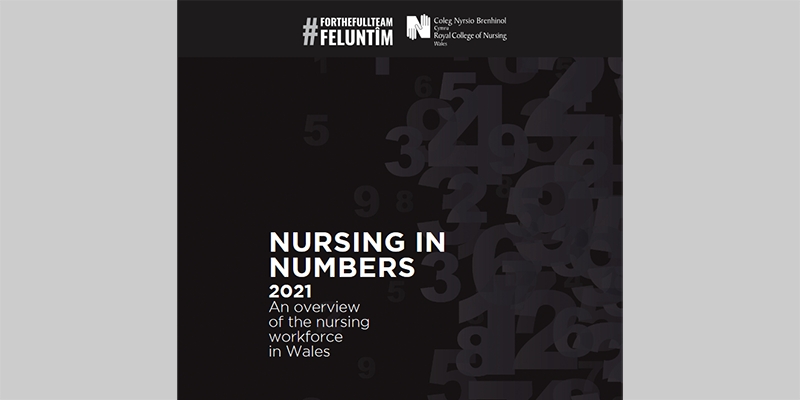 Connect with us:
Today (23 November 2021), RCN Wales has published its annual briefing on the state of the current nursing workforce in Wales. 'The Nursing Workforce in Wales 2021' provides an overview of the strengths and weaknesses of the nursing workforce in the nation. The report uses hard facts in number to illustrate the undeniable workforce crisis we are in. Some of the stats included are as follows:
There are currently 1719 nursing vacancies in the NHS in Wales alone, up from 1,612 in 2020.
Further pressures on nursing can be seen in that NHS Wales spent £69.04m on agency nursing in 2019. This is the equivalent salary spend of 2,691 newly qualified nurses.
In addition, every week nurses give the NHS an additional 34,284 hours in overtime. This equates to 914 full time nurses.
Not only does the report lay bare the stark figures of vacancies and extra working hours, but it also includes recommendations from the RCN that the Welsh Government and other relevant bodies should consider in implementing long-term and improved workforce planning across all sectors, highlighting the deeply interrelated issues of understaffing, recruitment and retention, COVID-19 recovery and fair pay to ensure safe and effective care.

The Nursing in Numbers 2021 publications runs alongside RCN Wales' #FortheFullTeam Campaign, which calls upon the pubic to sign a petition to extend section 25b of the Staffing Levels Act to Community and Mental Health Nursing.
Richard Jones MBE Chair of RCN Wales Board: 'Whether in work or in sport, each and every one of us knows how hard it can be to be just one team member down – our nursing staff are short of 1,719 highly-skilled, life-saving players. We need a full team.'
Sign the petition to extend section 25B of the Nurse Staffing Levels Act (Wales) 2016.
Helen Whyley, Director RCN Wales said "Nurses are overworked and under pressure, working many hours over their contracts to try and fill the gaps. They are under-resourced to deliver the high standard of care required by their patients and are not being rewarded with fair wages for the complex and safety critical role they do.
"RCN Wales recommends a number of measures the Welsh Government should take to address the shortage of registered nurses in the NHS and independent sector. Without a doubt, the top priority is to pay nurses a fair wage for their complex roles. Workforce shortages will not even start to be resolved until nurses are paid fairly.
"The Welsh Government also need to urgently develop a national NHS nursing retention strategy to keep nurses working in NHS Wales, publish registered nurse vacancy data to improve workforce planning across all sectors, and extend the nurse staffing legislation to community nursing and mental health inpatient wards in this parliamentary term, to protect patient care.
If the Welsh Government is serious about quality patient care they need to consider our report and implement its recommendations."
RCN Wales are holding a hybrid in person/online Celebration of Nursing event at the Senedd this evening where members from all 5 regions in Wales will have the chance to speak to new Members of the Senedd face to face about pressing issues surrounding safe staffing, fair pay and more. This will encourage direct constructive conversation to set the agenda for new politicians and give members a chance to make their voices heard.
Read the full RCN Wales Nursing in Numbers 2021 report in Welsh and English