Review of the year
As a new year dawns, RCN Bulletin takes a look at 2017's headlines
2017 has been a big year for the Royal College of Nursing...
We've campaigned against pay restraint and revealed worrying figures on safe staffing, but we've also celebrated excellent nursing and continued to improve care through our forums and learning events. In case you need a reminder, here's just some of what we've been up to...
January
The start of the year brought a new nursing role to the NHS as the first nursing associates began their training.
Elsewhere in the world, Donald Trump was inaugurated as President of the United States, the government in Northern Ireland collapsed and the British Red Cross described the situation in England's NHS hospitals as a "humanitarian crisis".
Paws for thought
We embraced creature comforts in January, with cats, dogs, chipmunks and ponies identified as just some of the animals RCN members have worked with.
The news went barking mad for an RCN survey which revealed 90% of members believe animals can improve the health of patients with depression and other mental health problems; 80% think animals can improve communication difficulties for people with autism; and nearly 60% say just the presence of animals seems to speed up physical recovery.
"The RCN is calling for better, more consistent access to animals," said Amanda Cheesley, RCN Professional Lead for Long-term Conditions and End-of-life Care.
I used to take my Great Dane with me when I was a district nurse and he could put a smile on any patient's face
"The evidence is clear that as well as bringing joyful moments to people when they are unwell, the clinical benefits are tangible. Nurses have told us of patients with reduced anxiety, better interaction and a whole reason to live – and we should listen to these experiences."
Pay petition
On 17 January an online petition urging the Government to scrap an NHS pay cap of 1% reached 100,000 signatures, triggering a debate in parliament.
Started by community nurse Danielle Tiplady, it argued that Agenda for Change staff had experienced harsh pay restraint since 2010 and lost more than 14% of their pay in real terms.

Ahead of the debate, RCN members from across the UK also visited the Houses of Parliament to meet with MPs to discuss the impact of the cap on their pay.

The two-hour Commons debate took place on Monday 30 January and showed cross-party consensus for the Government to end its policy of pay restraint. MPs from across the House highlighted how pay restraint is crippling nursing staff and "rapidly eroding" their goodwill.

Danielle said: "Nursing staff deserve a pay award that reflects our knowledge, skill and dedication. Colleagues are struggling to pay bills and are even turning away from the profession."
February
February saw the UK Government set out its Brexit plans in a White Paper, Lincoln City FC become the first non-league team to reach the quarter-finals of the FA Cup for 103 years, Cressida Dick become the first female commissioner of the Metropolitan Police and Storm Doris rip through the country at 94mph.
President honoured
In February, RCN President Cecilia Anim collected the CBE awarded to her in the Queen's New Year's Honours list 2017.
Cecilia with her CBE
The award was made in recognition of her work for the RCN over the last three decades, as a nurse specialist in the field of sexual health, and as a leader in her community.
Cecilia was elected the RCN's first BME president in 2014, having served four years as Deputy President. A clinical nurse specialist in sexual health, she works in North London and has been active in the RCN for more than 30 years as a steward and council member.
As President, she has made promotion of excellence in nursing her number one priority.
In her professional career, she has led advances in the field of women's sexual and reproductive health, particularly around family planning and the menopause.
Alongside that, her community work includes being chair of governors at her local primary school for the last 15 years, and active involvement in her local church.
Cecilia originally worked as a midwife in Ghana, before moving to the UK and qualifying as a nurse in 1977.
March
This month the Government's pay announcement was met with anger and dismay as financial restraints continued to cap NHS wage increases at 1%. The RCN campaigned hard for an above-inflation pay increase, but the continuation of the cap meant pay lagged behind the cost of living for the sixth year in a row.
The decision on nursing pay in England was exacerbated by an announcement from NHS Improvement banning NHS staff from working agency shifts at their trust or any other. However, following pressure from RCN members, NHS Improvement paused the ban which would have seen many nurses, who usually carried out additional work through agencies, unable to secure a decent income.
Preserving memories
Wartime nursing was brought into the digital age as personal stories of First World War nurses were uncovered by an RCN project in March.
With the help of a grant from the Heritage Lottery Fund (HLF), the College began creating a new online resource showcasing the long-lost stories of nine nurses from the First World War.
Using the nurses' own words, sketches and photographs, the resource will reveal the true stories of defence nurses past and present, shining a light on unsung heroes of the nursing profession.
The project ran alongside an exhibition which explored nursing during times of conflict. For Queen and Country looked at the compassion of nursing staff from the Crimea to Afghanistan, including this film in which a defence nurse describes, first-hand, a resuscitation attempt of a wounded solider in Afghanistan's northern Helmand province.
No turning back
On 29 March Prime Minister Teresa May triggered Article 50, officially beginning the Brexit process.
At the same time an RCN freedom of information (FOI) request showed a significant drop in the number of EU nurses coming to work in the UK since the Brexit vote in June 2015. EU nurses joining the Nursing and Midwifery Council (NMC) register fell to fewer than 200 per month compared to nearly 800 a month for the same period in 2015.
A separate FOI request has revealed that 2,700 EU nurses already working in the UK left the NMC register in 2016.
Janet Davies, RCN Chief Executive & General Secretary, said: "EU nationals working in the NHS need a clear signal from Theresa May that they are wanted and welcome to stay. Her failure to guarantee their right to remain is leaving soaring numbers heading for the door. Few are able to live with such uncertainty.
"The Government is turning off the supply of qualified nurses from around the world at the very moment the health service is in a staffing crisis like never before. They cannot afford to lose the international workers the NHS relies on."
April
April saw Prime Minister Theresa May call a snap General Election. In sport, the UK's Anthony Joshua became WBA World Heavy Weight Champion after beating Wladimir Klitschko. And according to the National Grid Britain went a full day without using coal power to generate electricity for the first time since the Industrial Revolution.
Ready for action
When the Government continued the 1% pay cap, RCN Council decided to launch a pay poll to survey members' appetite for industrial action.

Members across the UK who work in the NHS were asked about the impact of pay restraint, and how the College should respond, including whether members would consider taking industrial action, including strike action.


Janet Davies, RCN Chief Executive & General Secretary said: "The decision taken today by RCN Council shows their concern for the impact continued pay restraint is having on dedicated nursing staff.

"The pay cap is fueling a recruitment and retention crisis, and when compounded by issues such as downbanding, substitution of roles and student funding changes, it's a perfect storm for nursing."

In the end 52,000 members took part in the indicative poll, with 91% saying they would take industrial action short of strike and 78% saying they were prepared to strike.
Research leads the way
The impact of nursing research on policy making was a central theme of the RCN International Nursing Research Conference in Oxford.
Over the course of the three-day conference, prominent keynote speakers debated nursing's role in influencing politicians and policy makers.
Trish Greenhalgh, professor of primary care health sciences at the University of Oxford, said the art of persuasion is as important as evidence when it comes to policy making.
"We need to study the arts to speak truth to power," she said. "If we're going to persuade policy makers of anything we've got to understand rhetoric."
She added presenting evidence in the right way and appealing to emotions was also vital. "There's a key difference between distorting facts and framing them in a certain way," she said.
Trish Greenhalgh speaking at the 2017 RCN International Nursing Research Conference in Oxford
Jane Ball, from the faculty of health sciences at the University of Southampton, focused on the impact research has had on nursing policy in England.
She asked why nurses continued to do research when policy makers can ignore evidence for political or economic reasons.
"We might not always see research having an impact on policy but that doesn't make it any less valuable," she said.
"The compass always points north, whether the walker is looking at it or not. Research has to keep showing the direction practice and policy need to travel in."
She added nurses needed to tell everyone about their research, not just politicians.
"Put research evidence in the hands other nurses and members of the public, so they can ask the right questions of those who make decisions," she said.
Watch the keynote speeches and discover more from the conference.
May
The UK experienced another terrorist attack as an Ariana Grande concert in Manchester was targeted. Health care and emergency services staff were once again praised for their response to the tragic situation.
In happier news, Despacito by Luis Fonsi and Daddy Yankee featuring Justin Bieber started a long run at number one in the UK charts.
Time to celebrate
International Nurses' Day falls on 12 May each year, commemorating the anniversary of Florence Nightingale's birth and the work of nursing staff around the globe.
This year we celebrated our everyday heroes, highlighting the amazing work nurses, HCAs, APs, HCSWs and their colleagues do everyday.
RCN member Sulayman Jallow, who starred in the RCN's Nurses' Day film, said: "Nurses are doing great things, but often aren't recognised. I volunteered to be in the film because I want to show the public who nurses are and what we do."
Thousands of members organised events on the day, taking just a little time to accept the thanks of patients and their families.
RCN Congress 2017
Political promises hit the headlines at Congress in Liverpool as, following the announcement of a General Election, Labour's Jeremy Corbyn and the Liberal Democrat leader Tim Farron shared their visions with delegates. Both promised to scrap the 1% pay cap and reinstate student bursaries.
Conspicuous by her absence, Prime Minister Theresa May declined an invitation to attend Congress. An emergency resolution "that RCN Congress deplores the contempt shown in the letter from the Prime Minister for the Royal College of Nursing" was tabled in response and overwhelmingly supported by members.
RCN members also gave a strong and clear message that the Government's policy on pay was not acceptable.
The statement came as Chair of Council Michael Brown announced the results of the RCN pay poll at the College's annual Congress. Michael told delegates that more than 52,000 members working in the NHS had taken part in the indicative poll which measured members' appetite for industrial action.
The results of the three-week poll revealed 91% of members would take industrial action short of strike, with 78% saying they were prepared to strike.
Outstanding care
Melanie Davies was awarded RCN Nurse of the Year 2017 in May. She has helped transform the care for people with learning disabilities in Wales.

In 2011, Melanie was "horrified" after an ombudsman's report investigating the death of a man with learning disabilities at her hospital labelled the care he received as dire.

Paul Ridd died at Morriston Hospital, part of Abertawe Bro Morgannwg University Health Board, in January 2009. Melanie joined the hospital as a ward sister in December 2010 and took action right away.

The result was an information pack that went on to be used as the foundation for the care bundle developed for the Welsh Assembly's 1,000 Lives campaign. It is now being promoted across NHS Wales.
Melanie shares the information pack with colleagues. Picture by Stephen Shepherd
"Never again on my ward, in my hospital, in my health board – that's what I resolved and I felt it in my heart," says Melanie. "I have driven it and made it real. I made a promise to Paul Ridd's family that no other patient or family would experience the poor care he sadly received."
June
The summer finally arrived as June experienced its hottest day since 1976 – temperatures at Heathrow reached 34 degrees.
In politics, Theresa May agreed a £1 billion deal with the DUP to prop up her minority government and Nicola Sturgeon announced that she will delay plans for a second Scottish independence referendum.
In London tragedy struck as the Grenfell Tower fire claimed 71 lives.
Pay day protest
RCN members took to the streets on 27 June – NHS pay day – to protest about the 1% pay cap.
July
The Lake District National Park was designated a UNESCO World Heritage Site. As Lewis Hamilton celebrated taking the top spot on the podium at the British Grand Prix, environmentalists were happy to hear that the Government plans to ban all new petrol and diesel cars and vans by 2040. Meanwhile life expectancy gains in the UK were reported to have slowed to a halt for the first time in 100 years.
Proud support
Throughout the summer months members around the UK joined in Pride festivals, marches and events.
Benchers' badges
Labour leader Jeremy Corbyn and other frontbenchers donned Scrap the Cap badges in Parliament to support the RCN campaign.
Return of the pay day protest
For the second month in a row, members and supporters took to the streets to protest the 1% pay cap on nursing pay. Here are just some of the highlights.
August
The Duke of Edinburgh bowed out of public engagements at the age of 96 and Mo Farrah bid a successful farewell to track racing at the World Athletic Championships, taking gold and silver in the 10,000m and 5,000m respectively.
Big Ben fell silent at the start of a four-year renovation project.
Peaceful protest
In West Wellow, Hampshire, members gathered for some peaceful protest action when they released doves at the graveside of Florence Nightingale.
Throughout the summer members participated in a range of different activities designed to keep the voice of nursing in the media. From writing Scrap the Cap into the sands at Blackpool to taking a canal boat out for a day of leafleting, imaginative tactics were captured by local press and shared UK-wide.
Digital demo
On 25 August our Scrap the Cap campaign went virtual with members and supporters tweeting MPs, posting on Facebook and joining in a Thunderclap.
More than 2 million people saw #scrapthecap on their Twitter newsfeed and our Facebook posts reached 133,180 people.
September
September brought good news – the RAF changed its rules and became the first of the armed services to make women eligible for all its roles. The royal family announced another baby was on the way for the Duke and Duchess of Cambridge. Jane Austen appeared on the new polymer £10 note. And measles was eradicated in the UK for the first time.
Show of force
Nursing staff and supporters descended on central London as the RCN's summer of protest culminated in the College's largest ever rally.

Around 3,000 nurses, student nurses, health care support workers and members of the public took part in the 90-minute rally in Parliament Square, opposite the Houses of Parliament.

The crowd heard from a variety of speakers, including actor and campaigner Sir Tony Robinson, comedian Rob Delaney, and RCN members and staff.

In a passionate speech Sir Tony thanked NHS staff for looking after his parents, who both had dementia, and singled out nursing staff in particular.

"You are the lifeblood of the NHS," he said. "You are the heart of our nation when it's suffering. When we're confronted by pain, disease and death it's you who care for us."

He went on to demand an immediate end to the cap, calling years of pay restraint a slap in the face for staff.

RCN members travelled from all over the UK to make their opposition to the pay cap known.

Teifion Woodward, a staff nurse from Caerphilly in South Wales, said he had made the journey to London today because the cap was "blatantly not fair".

"We need to work extra bank and agency shifts just to earn a decent wage. We're all feeling the pinch because of the pay cap but it's wonderful to see such solidarity. We all want to stand together."

Closing the rally, RCN President Cecilia Anim told the crowd they had sent a message to the Government it couldn't ignore.

"Today we have told them loud and clear: we will not give up. Let's show the Government our voice is getting stronger and we're not going to go away. Nursing matters. We matter."

To coincide with the rally, an event was held in Westminster for MPs to meet RCN members and understand the effects of ongoing pay restraint.

Maria Caulfield, a Conservative MP and nurse, said: "This has reached a crucial point. Nurses have to be a priority if we're serious about retaining our experienced staff and improving services in the NHS. Staff are our number one asset."

Shadow Chancellor John McDonnell added: "The pay cap is penalising people. This is about recruitment, retention and morale. If you're not paying people properly, you're not respecting them."
Delirium champions
A new initiative launched by the RCN Older People's Forum and supported by My Dementia Improvement Network started to raise awareness of the importance of quickly diagnosing delirium.
With more older people than ever living alone at home, it is often down to community health care workers to spot the early signs of delirium and to know how to escalate a case. With resources and support tools made available online, chair of the forum, Vicki Leah, said: "Having delirium champions in the community will make a huge difference to the number of cases and the extent of the delirium. Being able to recognise and implement treatment plans for delirium sooner will prevent unnecessary injuries and hospital admissions. Being admitted to hospital often makes the patient even more disorientated, exacerbating the level of delirium."

To find out more and download resources, visit the delirium champion site.
October
This month we said goodbye to Monarch airlines and the old round pound. In sports news England witnessed a new hope for the future take shape as its under-17 men's football team won the FIFA U-17 world cup.
In world news the US withdrew from UNESCO and Catalonia made a bid for independence from Spain.
Scrapped it!
On October 10 Health Secretary Jeremy Hunt announced that the 1% cap on nursing pay would be scrapped. And while the RCN welcomed the news, it was clear there was still work to be done to secure an above inflation pay rise.
The message was underlined by a petition opposing the UK Government's policy on public sector pay which was handed to Downing Street. The petition included the 67,000 names of supporters who had signed up to the RCN campaign during the summer of protest.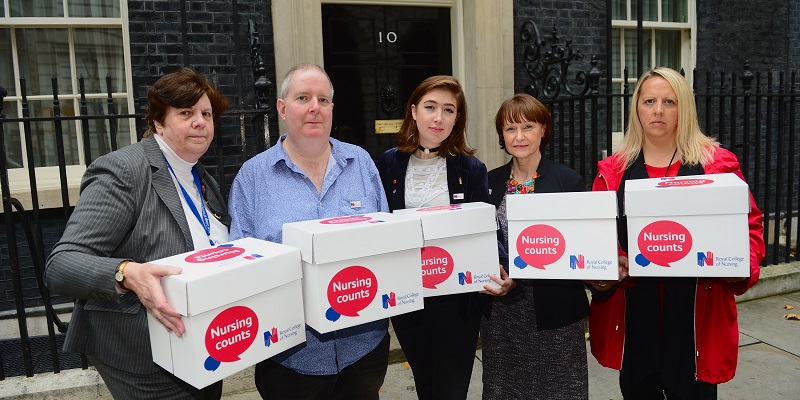 RCN members deliver a pay petition to Downing Street
Pay champions Michael Coram, Kayleigh Peel, Jane Leighton, Julie Lamberth and Jean Richards handed over the document after spending the summer alongside RCN members from across the UK promoting the Scrap the Cap campaign, distributing campaign materials and organising events.
RCN Chief Executive & General Secretary Janet Davies said: "This petition shows huge levels of public support for nurses, who work so hard to provide care for patients in the midst of a staffing crisis and increasing pressures in the NHS."
Urgent action needed
The RCN safe staffing report revealed chronic nursing shortages.

More than 30,000 members responded to a survey which sought to gain a snapshot of their experiences on the last shift they worked.

The results painted a perturbing picture of staff stretched to the limit and compromised patient care.

More than half said there were fewer nursing staff on shift than planned and that care quality suffered as a result.

"I drove home from work sobbing today, knowing the patients I cared for didn't get a fraction of the care I would consider acceptable," said one respondent.
Read more in Safe and effective staffing: Nursing against the odds.

November
November was out of this world as the first interstellar object, a high velocity asteroid named ʻOumuamua, was identified as originating from outside the solar system. And a royal engagement was announced, with Prince Harry set to marry actor Megan Markle in May 2018.
Leonardo da Vinci's Salvator Mundi sold for a record US$450 million and the Paradise Papers revealed the offshore investments of the wealthy and powerful.
Meanwhile in the UK Government's Autumn Budget, Chancellor Philip Hammond told NHS nursing staff that additional funding for a pay rise in England would be made available so long as pay structure reform is forthcoming along with productivity increases.
RCN Chief Executive Janet Davies responded: "The NHS has been running on the goodwill of its staff for too long, and with more talk of reform and productivity, Hammond runs the risk of insulting nurses who regularly stay at work unpaid after 12-hour shifts. Their goodwill will not last indefinitely."
Partnership makes nursing a big issue
The RCN joined forces with The Big Issue magazine to raise the profile of nursing and the work of the organisation. As of November, tabards worn by The Big Issue vendors carry the RCN's logo as a visual sign of the partnership. In return, the magazine will include commentary from senior RCN staff and articles about health issues affecting rough sleepers.
The Big Issue launched in 1991 to offer homeless people the chance to earn a legitimate income through selling a magazine to the public. Visit www.bigissue.com
New direction
The very word 'committee' is all that's needed to make some people run for the hills. But in a move to improve how members can direct the work of the RCN, a new committee structure was set up in 2017 ready to begin work in the New Year. In November the final pieces of the jigsaw were put in place as the results of elections to the Professional Nursing Committee were announced.

This new committee is the decision-making body of the RCN on professional issues and will provide leadership on the work of the RCN related to its role as a Royal College. It's the first time the RCN has had a directly elected committee to make decisions on this fundamental aspect of our work.

Working alongside them will be the Trade Union Committee. This group will work to ensure the RCN develops as a modern progressive trade union making a positive difference to the working lives of nursing staff.

It's an exciting time for the newly elected members, and Trade Union Committee member for the Yorkshire & the Humber region Andy Bassett-Scott Toogood said: "When I found out I had been elected I was over the moon. It will be an honour to represent my region. I feel that as a new committee we have such a lot to offer our members as now is such a challenging time for nursing and more than ever we need to be a 'union'."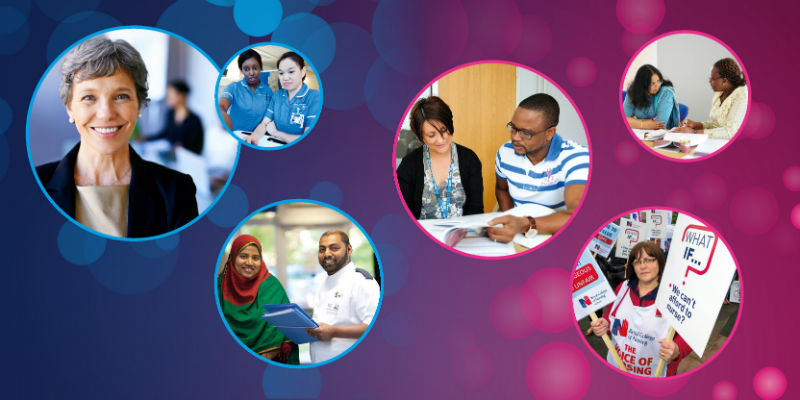 If you'd like to stand for a role in any RCN elections keep an eye on our elections pages to see which posts are coming up for re-election.
Read more about how the RCN works.
IPC course leads the fight
In November the RCN unveiled an innovative new course, to be piloted in spring next year, which will offer nurses working in infection prevention and control the skills to lead the fight against antimicrobial resistance.

The RCN Professional Development Course for Infection Prevention and Control (IPC) is an introductory module designed for those whose role contains a focus on the prevention of infection working in the NHS, independent and social care sectors.

With antimicrobial resistance increasing globally, nurses play a key role in reducing the need for antibiotics and combatting this threat in all care settings.

This new course will prepare nurses for the current and future challenges to their work and help them to develop clinical and leadership skills in the prevention of infection.

Rose Gallagher, RCN Professional Lead for Infection Prevention and Control, said: "The UK is leading the fight against antimicrobial resistance and the prevention of infection. Antibiotic resistance is a very real risk whereby simple infections are prolonged or become untreatable.

"Nurses have paved the way as clinical leaders in the prevention and management of infection and this course is responding to their current and future training needs. It will focus on practical work-based learning to redefine the standard for skills and practice in this area. It is important to develop specialist nurses that can adapt to changes in clinical practice and service provision in line with changes to health systems.

"The role of IPC nurses is constantly evolving and this course will help direct improvements to combat the rising threat of antimicrobial resistance in all settings."
December
December's headline concentrated on snow. Nursing staff in the hardest hit areas received praise in the media for digging out their cars to make community visits and battle in to workplaces.
Continuing the cold theme, Mount Hope in the Antarctic is found to be the highest mountain in British territory. And Russia is banned from competing in the Winter Olympics.
New Chair of Council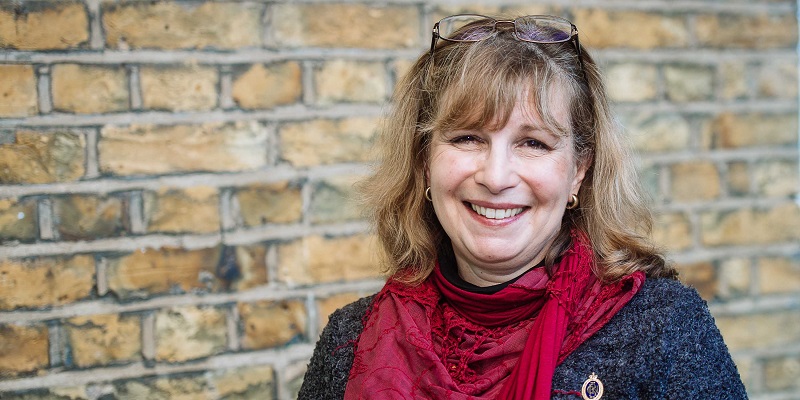 Maria Trewern, née Nicholson, was elected to lead the RCN's governing council from January 2018.

Maria became a nurse in 1977 and has been an RCN lead steward and safety representative. She has extensive experience in the NHS and independent sector specialising in workforce strategy, development and staffing levels, and has an MSc in Healthcare Management.

"I have huge belief in the RCN," said Maria. "I want it to be a powerful organisation whose dual role as a trade union and professional body continues to be its unique strength. I will make sure it delivers what it should do for members, without whom there would be no College."

The new Vice Chair of Council is Richard Jones, who represents Wales on RCN Council. Richard has more than 40 years' experience in nursing and nursing education.

Dave Dawes will continue as RCN Honorary Treasurer. He was elected unopposed.