All the paperwork and my portfolio has been signed off. It's been a lot of hard work so I wouldn't want anyone thinking it's been an easy process. However, I'm thrilled to have completed my coursework.
Not everyone in my university year is in my position though. Others still have more to do to complete their training.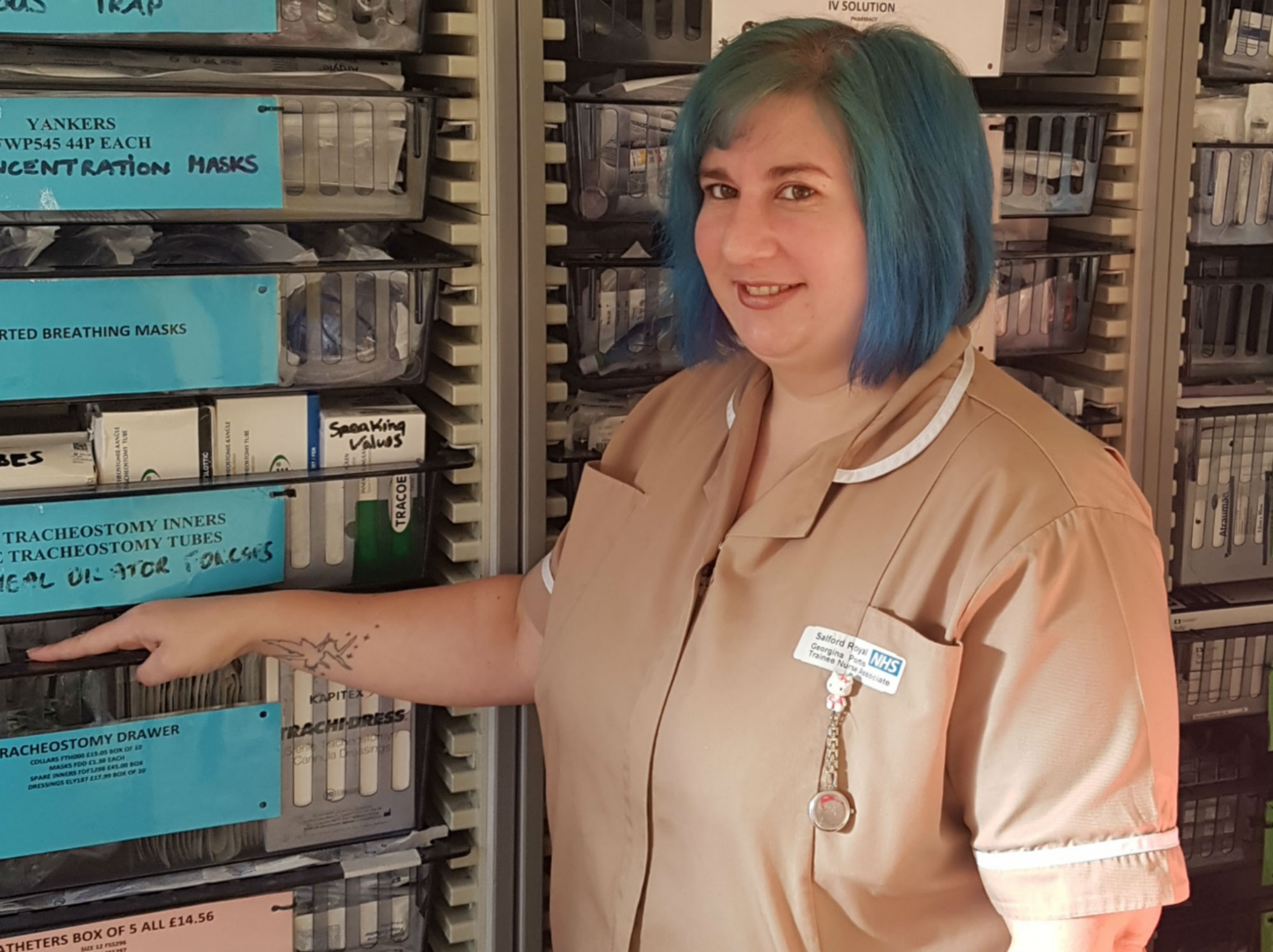 Georgina Portis
It's not been an easy course, and with us being the first cohort, "the guinea pigs" as we're often referred to, there have been many changes to deal with along the way.
Things seem to be getting better for those coming into the course now but at the start it was all quite difficult. Some first year placements were very challenging – we were counted in the numbers so it could be difficult to get the necessary learning. But the second year felt very different for me. Colleagues fought for us to be supernumerary and that made a huge difference.
No-one really sets things up for you and I quickly found out that you need to use your initiative
There's been a huge range of experiences to learn about. It's not the same for everyone so getting the experience and exposure you need has been down to the individual.
No-one really sets things up for you and I quickly found out that you need to use your initiative. The networking opportunities at training days were really helpful and I wasn't shy about asking if I could work alongside someone to get the experience I needed. This meant I found myself working in areas I'd never experienced before, such as a learning disabilities clinic.
I worked for two weeks in an in-patient mental health facility too. That was so different to what I'm used to. Locked doors and alarm buttons became a reality for me for the first time.
I admit I found it a little frightening initially but what a valuable experience to have. I really enjoyed it and I know I've come away with new tools that will be useful for my future role.
It's really important to get this kind of exposure as many people with mental health problems also have physical health problems so whatever environment you work in you need to be knowledgeable and prepared.
Making connections
The connections I've made with my fellow trainee nursing associates in the hospital have been so important, especially when things have been tough. It's helpful to find people who are going through what you're going through so you can support each other.
There are only eight of us on this course here and we're a close knit group. We've had the carpet pulled out from us so many times and things could be added in at little or no notice. Suddenly there's another reflection to do or another sign off to get. We've needed to support each other.
The connections I've made with my fellow trainee nursing associates have been so important
Academically, it's gone better than I ever could have imagined. But I've put the work in. You need to get 100% in the numeracy paper and we weren't allowed to use calculators. Preparation was key and I didn't take it lightly so I completed 120 practice questions before the exam. I had to re-learn long division too – and having taught myself a method, I helped others learn too.
One unexpected and very welcome outcome of the course is that I'm already working in my new role on a neuro-rehabilitation unit. The job offer was conditional – I have to pass the course but thankfully I didn't have to go through an interview. For now I'm still working at band three and won't progress to a band four role until I get my NMC PIN (hopefully in early February).
It was tough but so rewarding

I came to this role almost by accident and I certainly had no ambition to use this course as a stepping stone to becoming a registered nurse at the outset. I never for a moment thought I'd be academically successful enough to take this any further.
But now I admit the idea of the 18-month top-up to a registered nurse course is giving me food for thought. As yet the conversion course details haven't been finalised but when I know more I might consider it. The first intake is due this September so I've put it on my matron's radar.
If there was one thing I wish I'd known at the start of my training it is that I'd make it to the end! It was tough but so rewarding and if you're considering this course, you'll definitely grow as a person as you're completing it.
The RCN says
"The trainee nursing associate role and education programme was introduced at speed into England in 2017. They were very much 'guinea pigs' going through this programme which introduced a new role into the workforce in England.
"Now as they qualify as nursing associates, they will be a welcome introduction to the clinical workforce in the NHS, social care, hospices and GP practices."
Gary Kirwan, RCN National Officer