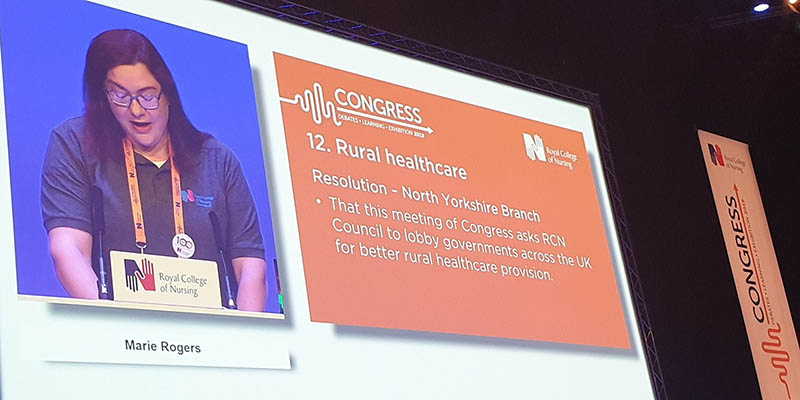 I'm the District Nurse Team Lead for Ulverston, Dalton and Millom, working out of University Hospitals of Morecambe Bay NHS Foundation Trust. It's a band seven role and I started in June 2019; I was just finding my feet when the pandemic hit.
Very early on we realised that there was no guidance on PPE in the community, so I told all my teams to treat everyone coming out of hospital as if they had COVID. We were wearing PPE a couple of weeks before official guidance came out. I'm really passionate about keeping my team safe.
As reps we were pressuring for more advice for community teams around PPE. Early on we were pushing for safety for students out on placement because we didn't have formal procedures in place.
We were trying to gather as much information for people as possible. In my mind I had to be open and honest with staff and make sure they were safe and healthy, especially mentally. I was worrying so much about everyone else I didn't focus enough on myself in hindsight.
However other aspects of the pandemic have meant that it's allowed us to work differently. Suddenly all the red tape's been lifted. Travel and meetings have been cut down. There are all these resources available to promote self-care in the community so that's the good side for us – we've suddenly got written guidance for patient-administered injections, caring for wounds and catheters so it's been quite empowering for patients and the nursing staff.
I'm the chair of the RCN Cumbria Branch, and I'm heavily involved in staff side and my trust's policy group, as well as the NHS charities committee for our trust. It's a lot to fit in, and I've also signed up for a brand-new professional nurse advocate master's unit starting in March which involves 75 hours of structured online learning and then assignments. It will allow me to provide advanced clinical supervision and it's been developed off the back of COVID.
Sitting on staffside is an eye-opener. I'm nosy, I like to know what's going on; it enables me to question things. I like to challenge things that don't seem right and get something done about them.
I became interested in community nursing on placement as a student. I loved the idea of holistic care and having the time to spend with people and look after them. I still love what I do, and I'm always looking for ways to improve it. I topped up my degree in 2015 with a district nursing practitioner top-up, qualifying in 2016. District nursing is actually one of the few nursing professions where you need this additional degree top-up in order to call yourself a district nurse and progress above a band five.
Community nursing is a great move for nursing staff with families and the learning opportunities are better too, as we see so many different types of procedures, so we get trained up in a wider range of skills.
When I was at the University of Sheffield, the RCN came to our induction and talked about Congress. They used to put coaches on for students' day. I got the Congress bug – attending the debates and collecting free pens. It wasn't until many years later that one of the other Cumbria reps, Karen Thompson, backed me to become a steward which has led to me being Cumbria Branch Chair. She took me under her wing at Congress and introduced me to lots of active reps. After ten years of going to Congress I finally spoke at the podium and in 2019, I seconded a resolution on rural health care, which was passed.
I've enjoyed sharing any information I come across on the Cumbria Branch Facebook page. If I can share resources that help one person's mental state or make their role any easier then it's all worthwhile. It's enjoyable promoting the RCN and has professional networking implications too – you can get to know more people online and that opens more doors.
There are only three Cumbria Stewards in our trust at Morecombe Bay and we need more in the independent sector too, so if you're interested, please let the RCN know – you get all sorts of learning and development opportunities and get a lot out of it yourself.