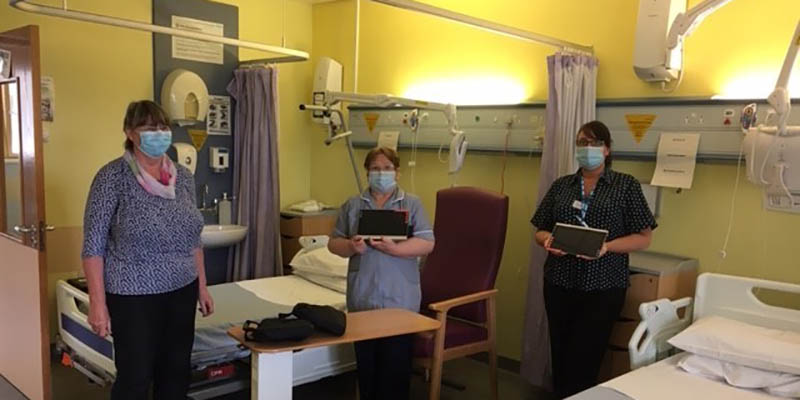 From March to September 2020 I had the privilege of opening and running a medical ward at one of our community hospitals. Initially intended for patients from the acute hospital who were poorly but stabilised and transferred to finish their treatment and go home, we were increasingly caring for patients who were COVID-positive.

We had a brilliant team with a great skill mix. Some were ward-based nurses from Darlington Memorial Hospital and others were specialist nurses. Despite their initial nerves they all performed fantastically, working nights and weekend shifts whenever necessary. Their fortitude and willingness made my job as manager much easier – I had a dream team.

As the infection rate dropped, the trust moved quickly to put usual services back in place so those specialist nurses were the first that needed to go back to their old roles. I closed the ward, recalled my team and went back to my "normal job".

Then came the next wave and in November I had to make the difficult decision of which of my staff I could let go to be deployed. That was hard. Given that we'd all only just come back in September, it was heart-breaking because we'd only just started to rebuild those connections within the team and the wards.

I volunteered to work in the vaccination centre myself and my first shift was New Year's Eve. Driving back from Durham to Darlington at the end of that first 12.5-hour shift it was a beautiful night and I thought to myself that was a really good day! Everyone was so delighted to be there and get their vaccination. It seemed like way out of the pandemic was in sight.

By the first week of January I was deployed to a COVID ward back at the community hospital again working with another lovely team on a sub-acute medical ward, and I continued helping at the vaccination centre one day a week.

The PPE is a bit warm! Wearing your mask, face shield and aprons, you get thirsty and because you're thirsty you would get a tickly throat and want to cough. Then you think you've got COVID symptoms! Then reality sets in and you think you just need to have a drink. You came away tired.
Communication could be very difficult with patients which was a worry. Getting through to them when they have hearing problems is hard and it's scary for the patients you're caring for. You feel for them and their relatives who call and want information. Especially frail, elderly confused patients, it must be so frightening for them to be faced with this little person dressed up in all this gear who is trying to communicate with them. Dementia patients in particular often rely on your body language and facial expressions, which aren't there with PPE, so you have to find other ways of communicating.

I'm not unique or special, I'm just one of hundreds of thousands of nurses who have stepped up to give the best care we can give.

As you might expect, for me the saddest moments are when a patient dies. For a short while relatives couldn't come in and so we'd try to make sure we were there. That was hard when you had to be there and talk to a dying patient and hold their hand, with the gloves in the way. I used to talk away, just so they knew someone was there. Now family can be there at end of life which is so much better.

My substantive team is the Enhanced Care Observation Team. We support wards who have patients with dementia or delirium who need one-to-one or cohorting care because they're at high risk.
The enhanced care scheme was introduced in 2019 to try to improve the experience of dementia patients in hospital. We were going to extend it throughout the trust but that got scuppered by COVID, as many things did. It was such a shame because it was becoming a real success. The feedback from relatives and hospital teams was positive. The wards found the team useful and when they were taken away they found it hard. The ward staff had to go back to trying to include the things the team offered - hand massages, reminiscence, playing cards, dominoes, colouring in, chatting, looking at photos, talking about gardening, football, holidays, anything so that they hopefully slept at night. We ensured they didn't fall and hurt themselves, promoting their eating and drinking. The team is now back and like many services with trusts is having to review their service and change, develop in a different way.
Thank you to all those in the teams I have worked with, I could not have got through this without them.