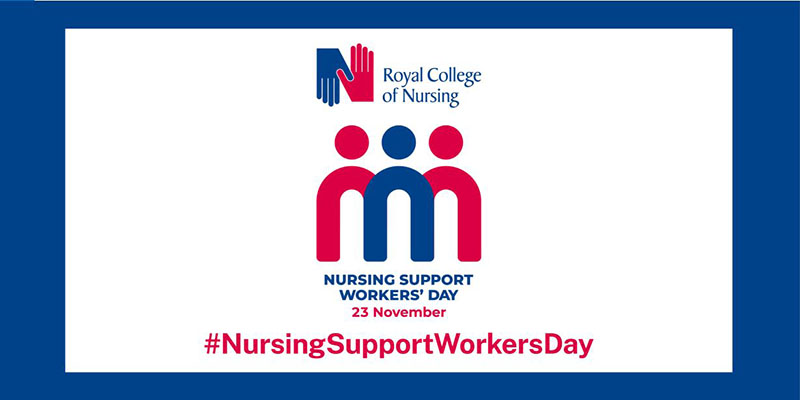 A lot of people I speak to are surprised they can join. We decided at our NSW Committee meeting that on 23 November we are going to have a Nursing Support Workers' day – it'll be like Nurses' Day – we are going to tell managers and staff and charge nurses in independent sector, the NHS or wherever and ask everyone to please celebrate this day.
I always used to feel that the RCN wasn't for HCAs but then after seeing bullying in the workplace I joined. I became a representative and am still active as a steward. After that, even though I was an HCA, as a steward people tended to come to me for advice. I worked very closely with my line manager and team manager who were very supportive of the role, which really helps. As an RCN member and an activist I have a better integration with my team.
We have an
RCN Nursing Support Worker Facebook group
that members can join and get support from. Hopefully we'll have an official forum soon too to add to the RCN's 43 forums and networks. We want to spread the word that the RCN supports the whole nursing team, including HCAs and APs.
You don't have to become an activist by any means. If you join you get the benefits of the biggest nursing library in the world – accessible online with online training sessions available via Zoom.
if you want to train further or just look up a topic you're interested in then they can get your articles in three days. There are a wealth of booklets, pamphlets, articles and other publications that you can use in your everyday nursing to back up what you do so when you're putting your personal profiles together for your appraisals you've got that access to help you.
For me the benefits included being able to join the national committee I'm on now and that really expanded my personal and professional growth. The training you get as an activist helps you learn how to approach higher management, for example; they are actually accessible. They are not these people in an ivory tower you can't reach. You can – they are on a level and you can talk to them and it doesn't matter what grade you are – they will listen to you.
I joined the RCN when I went to an RCN Congress in Harrogate with a friend who was an HCA member back when they'd just started to accept HCA members. I attended as her guest and I signed up to be a member while I was there because after experiencing it I knew the RCN was something I wanted to be part of. When I came back I looked into I thought I'd never be a steward or any kind of RCN representative though; I was an HCA so I didn't think I could be.
Then I saw a friend of mine being bullied and I didn't like it. I watched things unfold and thought this can't be happening - I have to look into this further. It turned out I could actually be a rep. I applied to be a steward and was trained by fellow reps Michael Appleby and Janet Mortimer and the RCN staff. My mentor is RCN Officer Heather Whitton, she's fantastic. If I need any advice I go to her.
Nursing support workers should join the RCN because it is one of the best unions to be able to support them. The others cover a wide range of professions, but the RCN is nursing -specific so as a nursing support worker you will be properly represented.
For nursing, the RCN is the place to be, for the support, for libraries, articles, background knowledge, it's a good union to be in and it's also cheaper than the others at the moment. The others are salary-linked. With us there's a discount for the first year - £4 a month for the first year and then it goes up to £8. Careful what you tick because you could end up with journals etc. and that's more expensive.
I always think that being a steward or a rep looks good on the CV that you have represented people. I will stand up for them, whatever their band from top management to band two you fight their corner where possible. The outcome isn't always what they want. It depends what they've done. But the important thing is being there to support them.