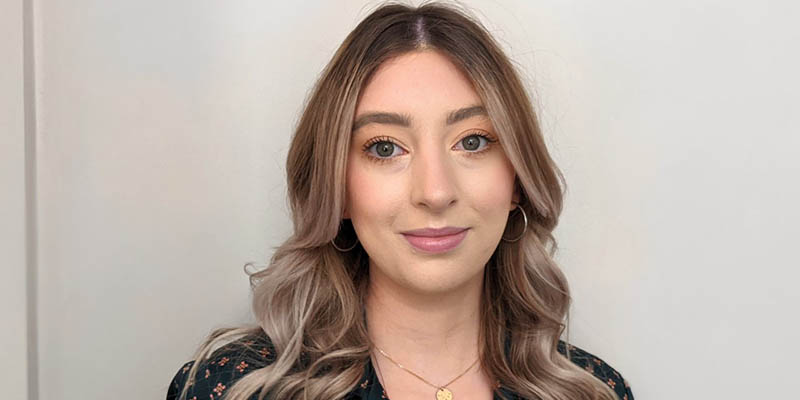 I originally thought I wanted to be a teacher. As a teaching assistant I was assigned to a one-to-one role with a little girl with complex needs who didn't yet have a diagnosis. I needed to understand and support her and it was so difficult to meet her needs because I didn't have any training or guidance, I had to access support and information myself. Eventually I requested an autism support session and that got the ball rolling. Her mam was very thankful. There isn't enough support for people with a diagnosis.

This little girl changed my life and my career. She changed my understanding and my mindset. A lot of the professionals who came to see her said her needs are very complex and they were shocked at how far I'd got with her.

That's where my interest in learning disabilities came in – I wanted to help people with autism and their families to identify it at an early stage. I was looking into my options and found learning disability nursing. I thought I could specialise in autism and see the difference I can make.

I discovered the RCN in my first year at university when the unions came in to tell us about themselves and encourage us to join. It just clicked for me. I loved how they delivered their presentation, and everything they could offer. I applied to be a Student Ambassador online and a few weeks later I got my letter, information pack and badge.

Shortly after becoming an RCN Student Ambassador our Northern Region Students Committee member Scott Doughty contacted me and added me to his Northern student ambassador Whatsapp group. If there's anything interesting going on in the RCN he shares it with us so we can spread the word about articles, webinars, and campaigns we're working on.

Recently we've had Teams meetings. It's been good getting to know the other ambassadors. We plan to work together on events, meetings and campaigns.

In terms of my role as a conduit for information between the RCN and the students at my university, it's been harder to reach the students in my year who aren't in my cohort because of the pandemic. But my cohort are sharing any information I pass on to them with their contacts, which is great.

Being a student nurse throughout COVID has been really difficult. Luckily I've had constant support from the student ambassadors and student reps. It's been really heard to adjust to online learning. Working independently is encouraged for second years but it's been difficult to do while relying on online learning and technology to receive support. The opportunities we used to have to stay at the end of a lecture to have a quick word are now reduced.

Finding where you fit between being a nurse and being a student is quite difficult. We took a while to realise that we counted as health workers who are eligible to send their children to school and be prioritised for the vaccine etc. so I've made people aware of that.

Working from home has given us opportunities as students. There are things we may not have been able to experience on placement. Online there have been lots of sessions on Teams so I can leave a meeting with a nurse and then go to one a minute later with a psychiatrist; I can attend a lot more meetings and join more things because such a lot more is online. Assessments, meetings, and reviews have all been online. In the past I wouldn't have had the confidence to speak out in a meeting in person, but if you're doing it online then you know when your turn is and you can speak out and then go back on mute.

I think that this year's really shown that things can be done online and it might help us. It's been easier to network and join meetings when able; I've been attending more events, and this way we get more opportunities to speak to professionals without waiting a long time. In my last placement I was in a huddle with a few community nurses who they said they'd introduce me to a contact who knows about autism. I was interested in learning more about autism and expanding on my experience in different areas that may not have originally been available to me. If I hadn't been in that multidisciplinary team online meeting it wouldn't have come up.

If you're a nursing student I would encourage you to become a student ambassador. It gives you the power to make changes, and if we want to make a difference to future nurses going into nursing then we need to use our power to empower them.