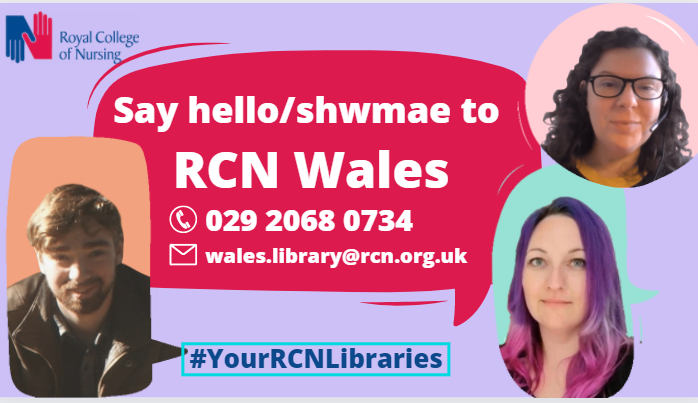 Have you ever struggled with searching for literature and evidence for your studies? Want to spend less time stressing on where to even start, and more time focusing on your placement, your new job, or just relaxing and looking after your wellbeing in your free time?
Whether from the comfort of your living room, or with us in person, we're here to support you in a hybrid way to suit your busy schedule.
Our Cardiff Library in Ty Maeth is now open by Monday-Friday 9am-5pm, with dedicated appointments with your Librarians available from 10am. I promise we don't bite (or 'shush')! Look at these beaming faces (above), eager to welcome you back to our library and studying spaces! Why not book a drop-in slot to have a chat with us in person?
Unable to visit us in person? No problem! We have online drop-ins every Wednesday 2-4pm. Looking for something more specific? Join one of our 'Know How' workshops or book in for a one-to-one training session to help with your dissertation, revalidation, or CPD with us here: Literature searching and training. If you're a full member of the RCN, we can perform literature searches on your behalf. Just get in touch!
Our webchat is also available 9am-7pm on weekdays and 9am-5pm on Saturdays. Just click on the green 'Chat now!' button on our RCN Library webpage
RCN Wales Journal Club
You may have also seen this happening over on our Twitter, Facebook, and Instagram pages lately, and at the launch of Journal Club in March we talked about vaccine hesitancy and the rights and responsibilities of nurses regarding combatting misinformation online. Keep an eye out for the next upcoming Journal Club, open to all RCN members, where we'll be discussing another fascinating topic.
You asked, we delivered
In an example of how we aim to implement improvements based on customer feedback, we have improved our Nursing Times access and it is fully linked to Library search via the Ovid journals platform.
Don't miss out on how we can help, and get ahead with #YourRCNLibraries!