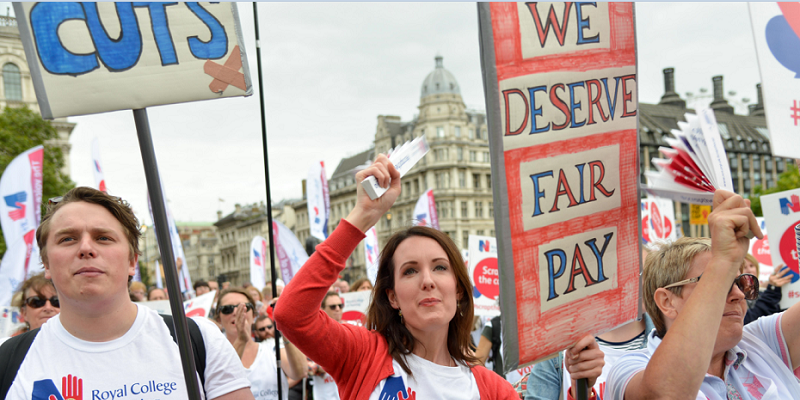 At times like this it can feel that not much else matters too much. But maybe there's an extra poignancy right now in continuing to exercise our democratic right to campaign on the issues around us. And as the recent Audit Scotland report on the NHS in Scotland demonstrates, there is certainly still much to campaign on.
The report outlines a series of problems, many of which pre-date the COVID-19 pandemic, that are all too familiar to RCN members - an increasing backlog of patients, increased demand for mental health services and likely additional pressures caused by long Covid to name three. The report says the Scottish Government "must prioritise workforce availability challenges" including record high levels of nursing vacancies, if the recovery of services is to be successful.
This is just the tip of the iceberg of the problems that you encounter every day wherever you are working in health and social care. This is why we're gearing up to renew our efforts on safe staffing and unsustainable pressures.
The RCN has been vocal in calling for the Health and Care (Staffing) (Scotland) Act to be implemented as soon as practicable. In truth, we should have seen much greater progress on implementing the Act in the years since it was passed, even with the pandemic. The Scottish government is also due to publish its long-delayed workforce strategy. Coupled with implementation of the Act, this could provide a much-needed foundation on which to build the post-pandemic recovery and begin the long road to filling the record high levels of vacancies.
In addition, we're about to enter negotiations on NHS pay for 2022-23. We are pressing the Scottish government to agree the timetable for this and are adamant that they cannot delay starting the process in the same way as last year. Members voted in the indicative ballot held last year and 90% of members told us they would be willing to take industrial action. And our trade dispute over RCN members' rejection of the pay offer for 2021-22 remains open. We will be capitalising on these things during the negotiations and continuing to press the Scottish government for fair pay for nursing.
Nursing staff need to know that they are valued and that their safety critical role is recognised. Ensuring safe staffing levels and fair pay that addresses the increase in cost of living are key to Scotland having the workforce it needs. In the coming weeks and months we will be continuing to campaign on these issues. Please make sure your RCN membership details are up to date on the recently updated and improved MyRCN which makes it much easier to view and update your details with the RCN. That way, we can continue to keep you informed about what is happening and how you can get involved. When members come together, we can achieve real change for our profession and for those for whom we care.