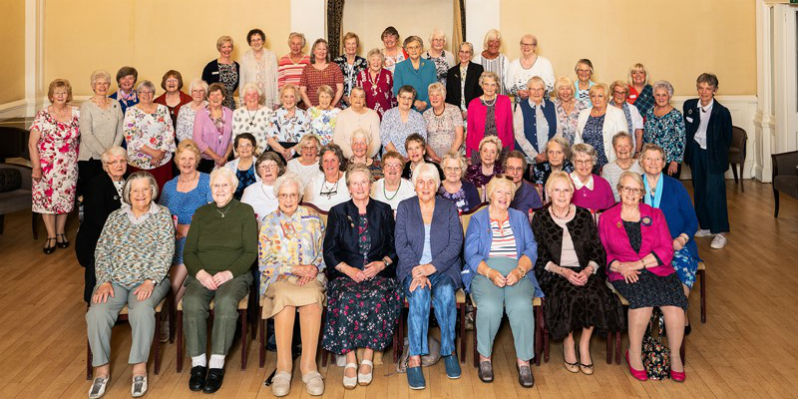 I was invited to attend the Queen's Nursing Institute Scotland's [QNIS] 130 years of Queen's Nursing Annual Gathering at Creiff Hydro Hotel, Crieff on Monday 17 June 2019. This annual event called, The Gathering, has been a QNIS tradition for many years and celebrates the work of the Queen's Nurses [QNs] with a lunch party. This year, as it is the QNIS's 130th year it was especially special. I had been awarded a Fellowship from QNIS in November 2018, so felt very privileged to be included and I also got to wear by lovely QNIS brooch.
QNIS arranges retired QNs to attend this annual event; coaches run from Glasgow, Edinburgh, Aberdeen and Inverness on the morning of the lunch. Some of the QNs stay on at the hotel after their lunch to catch up with friends. QNIS has a charitable objective around the welfare of their retired Queen's Nurses and these nurses value the welfare work that is done with a strong sense of 'fellowship'. The annual gathering and other regional events promote this sense of fellowship, QNs have a desire to retain a vibrant connection with their QNIS and their nursing identity. Those who stay on at the hotel, do so as part of a QNIS organised holiday which provides annual opportunities for that fellowship, on a more extended informal basis as the group enjoy one another's company for a week, relaxing and meeting together in the evenings, with invited after dinner speakers.

Monday 17 June 2019 as I left home, it was a typical misty Perthshire morning with lovely mizzly rain, 'dreich' and grey, but I had a feeling that this would not dampen the spirits of the day to come. As I arrived at the hotel, the sun just broke through, this sunshine set the scene for the rest of the day! Having registered, I just followed the increasing level of noise of chatter and laughter, and that was before our lunch commenced.

Professor Clare Cable, Chief Executive and Nurse Director of QNIS welcomed everyone and the oldest member of The Gathering cut a celebratory cake.

After this, Clare gave a roundup of the various events and awards that the current Queen's Nurses have been achieving in Scotland, and after this, it was lunch.
I found myself at a table with some very interesting retired Queen's Nurses, their stories were inspiring and struck me as a 'snapshot' of how, they as QNs, worked as 'the nurse' in their communities, both in a town and rural setting, adapting to their various working conditions , 'we just got on with it' seemed to be the phrase that resonated. Two of the QNs came from families of QNs and could recall coming with their mothers to this same kind of Gathering some 30 and 35 years ago.
After lunch it was more chatter and more laughs, and an even more rising level of noise, a photograph for the archives and lots of talk which seemed to be around…..'yes she trained with ….' and 'I remember you when you were a wee bit thing…' , and 'I delivered you sister's…..' and 'it's not the same now…'.

It was a lovely afternoon in the company of some very inspiring and lively QNs, nothing about these women is 'retiring', great chat and a fine gathering of nurses celebrating nursing, their lives as nurses and friends, and a strong sense of community and fellowship.