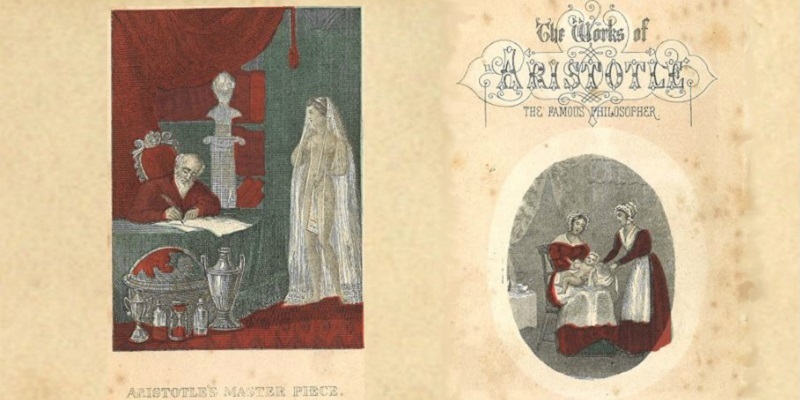 Aristotle's Master-Piece was a manual of sex and pregnancy which was first published in the 1680s. The identity of the author is unknown, though one thing is certain: it is not the work of the Greek philosopher, and was most likely published under his name to give it a veneer of scientific credibility and respectability. The book is speculatively attributed to one William Salmon (1664-1713), a self-styled 'Professor of Physik'.
Aimed at young married couples and amateur midwives, the book was reprinted many times in Britain and America well into the nineteenth century and enjoyed a long career as a disreputable, quasi-pornographic text, sold in backstreet stores and passed from hand to hand, though we today would find little in it to offend.
The contents of the book are very much a reflection of the times in which it was published - a mixture of advice that ranges from the reasonably sound to the somewhat bizarre, very detailed descriptions of the female reproductive system, leavened with a substantial dose of supposition, superstition and astrology. The author makes some somewhat startling assertions - for example that milk from a mother's breast is menstrual blood turned white, that a woman who conceives outside marriage, or even thinks of another man whilst pregnant, will give birth to a 'monstrous' child, that fertility can be determined by the appearance of both partners' urine on a lettuce leaf.
Along with these archaic notions, the book takes a surprisingly progressive view of sex for its time - stating that it is beneficial for women to enjoy sex as much as men.
'Aristotle's Master-Piece' (though not by Aristotle, and arguably far from a masterpiece) gives us a fascinating window into attitudes towards, and knowledge of, marriage, childbirth and sex from over three centuries ago. It is just one of the historical treasures held in the Library and Archive Service's special collections, all of which we'll be delighted to share with you. Specific items can be viewed by appointment for research or interest, and we offer group treasures sessions where we present a selection of rare and interesting books, journals, pamphlets and other publications, shedding light on the rich history of nursing.

Discover more about our special collections on our page here, or email us rcn.library@rcn.org.uk