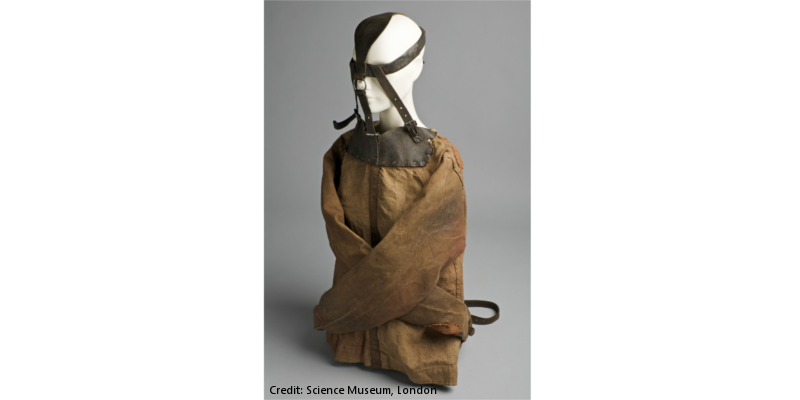 Recently our Library team each chose a book from our special collection, an item that caught their attention or that was interesting to them, and presented it in a team meeting. We've decided to share these treasures, and their stories, with you in a series of blogs.
First up is Sarah Chaney, who chose a book with, perhaps, the longest title in our collection: "A concise history of the entire abolition of mechanical restraint in the treatment of the insane; and of the introduction, success, and final triumph of the non-restraint system : together with a reprint of a lecture delivered on the subject in the year 1838; and appendices containing an account of the controversies and claims connected therewith" by Robert Gardiner Hill (1857).
The non-restraint system is perhaps the most significant change to mental health care that no one's ever heard of. When we think of Victorian lunatic asylums, we tend to conjure up images of chains, manacles and strait-jackets. Few people know that in 1838 an alienist (as psychiatrists were called then) called Robert Gardiner Hill disposed of all forms of mechanical restraint at Lincoln Asylum. The system was adopted by prominent asylum reformer John Conolly at Hanwell, and the idea quickly spread. By the early 1850s, all asylums in England and Wales claimed to follow the non-restraint system.
Why is the book significant for the RCN? The non-restraint system resulted in a big change in the role of mental health nurses. From "keepers" whose major role was to confine and control the mentally ill, they became "attendants". As part of a system of moral treatment, nurses were expected to encourage patients to work, to provide entertainments and activities, and to talk to and support their patients. There were also challenges. Patients who were deemed at risk of hurting themselves or others had to be physically restrained by staff, who might cause injuries or be injured themselves in the process.
Some restraint crept back into asylums in the last decade of the century – quietly and with far less fanfare, aside from one furious exchange between alienists in the letters pages of The Times in 1888. One of the reasons some doctors now advocated mechanical restraint was also linked to nurses. This time, however, it was the social perception of nurses that was key. Working class asylum attendants – or so these middle class doctors thought – did not have the self-control to handle patients safely. The strait-jacket, however, was emotionless and therefore could be preferable.
Robert Gardiner Hill's book nicely illustrates the way "progress" in healthcare is not necessarily linear or straightforward. Things may improve (from a modern perspective) but then decline again, and changes may be just as much linked to social stereotypes as to medical advance. Mid-Victorian asylums were not necessarily as bad as we imagine them to be. And if you see a strait-jacket in a museum, it's more likely to be a twentieth-century artefact than from the nineteenth century.
The image above is a strait jacket from 1925-1935 (credit: Science Museum, London).
You can view items from our special and historical collection by booking an invigilated session, or by organising a treasures tour. Email
rcn.library@rcn.org.uk
to find out more.