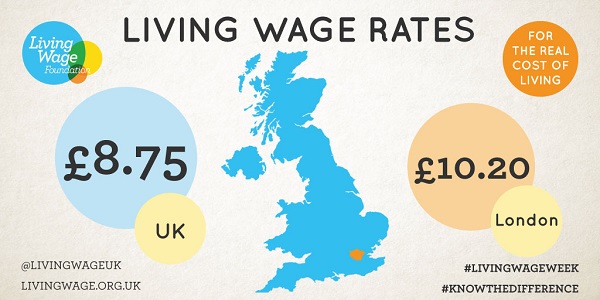 Many RCN members are employed beyond the NHS. The Care Home sector, for example, employs thousands of health practitioners who deliver vital care every day.

Large numbers of these staff are employed on the minimum wage – this is not acceptable. We support paying people the Real Living Wage, both as an employer and a trade union working on behalf of our members.
What is a real Living Wage?
A real Living Wage is a pay rate that allows someone earning that pay to have, at the very least, a decent standard of living that is acceptable in our society.

The real Living Wage rates are independently-calculated each year, based on what people need to get by. It's higher in London where the cost of living is greater.

The RCN supports the real Living Wage as a starting point from which to build the pay of nursing staff upon. No one should be paid less than the real Living Wage.
Know the difference
The real Living Wage is a voluntary rate and is higher than statutory minimum wage rates. The new UK real Living Wage rate, announced today as part of Living Wage Week is £8.75 per hour, a 35p increase on last year's rates. The London real Living Wage rate has increased from £9.75 per hour to £10.20.
In 2016, the Government introduced a higher statutory minimum wage rate for those aged 25 and older called the 'National Living Wage', but this is not calculated to give people an acceptable standard of living. Only the real Living Wage does that.
What can you do?
The new real Living Wage rates provide an ideal opportunity to speak to your manager and employer about your pay.
The RCN will help you, but it will need you and colleagues to work together to support each other and speak up about your pay and the need for a living wage.
Our website has information on
starting a conversation between nursing staff and employers about fair pay, terms and conditions
. You can also access the RCN publication
Fair Pay in the Independent Sector
.
You can also
contact RCN Direct
for additional support with making a pay claim.