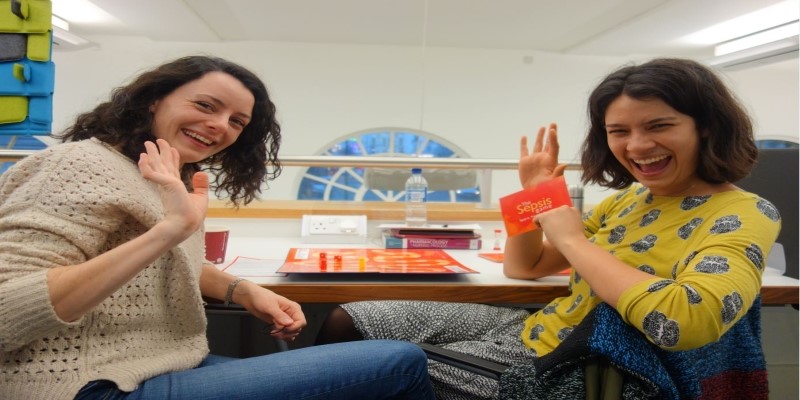 In addition to over 80,000 books and eBooks available for loan, all RCN members and staff can also borrow a range of board games from the RCN Library and Archive Service. Described by the games' designers as "an antidote to eLearning", the idea behind these is to encourage interaction and discussions in a face-to-face learning environment. Players can learn from each other at the same time as having some fun!
Topics covered by the games include infection control, burns and sepsis, as well as generic skills, for instance communication. Members have fed back to us how much they have enjoyed playing these games and they are also a useful teaching & learning tool.
Andrea Childe, Learning and Development Co-ordinator RCN Scotland, enthusiastically recommends using the games as an informal teaching method. She found the Drug Round Game in particular very useful in one of her workshops:
"We run bespoke drug administration and drug calculation workshops for Registered Nurses who are being supported by an RCN Officer and facing an NMC enquiry. The sheer nature of the course can mean it is an emotive day for some of the participants and joining in with the day and learning can sometimes be a little difficult.
I recently reviewed the workshop and updated it to ensure it was fit for purpose and the drug admin game was recommended as a different method of delivering information and also a different way of assessing learning. The game is particularly helpful if the facilitator is required to encourage discussion in a more informal way. I will now have the game available for each time we deliver the workshop (three times per annum). It proved very popular in evaluations submitted to us from participants at the workshop so will certainly be a tool of choice from now on!​"
You'll find a full list of the board games we have and details of their availability here. The games can be borrowed and taken out of the library in the same way as any other loan item. These can also be reserved and are available for postal loan.
If you would like any further information, please do not hesitate to contact us.