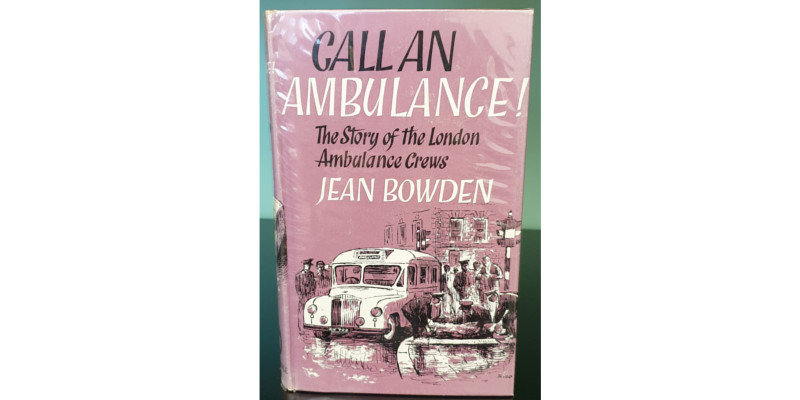 Recently our Library team each chose a book from our special collection, an item that caught their attention or that was interesting to them, and presented it in a team meeting. We've decided to share these treasures, and their stories, with you in a series of blogs.

One of the books that caught our attention was 'Call an Ambulance: the story of the London ambulance crews' by Jean Bowden, published in 1963. This gem has 19 chapters ranging from 'why be an ambulance man', to 'murderers are only human'!


This book covers all sorts, events such as the Lewisham rail disaster of the 4th December 1957. A bridge collapsed when two trains collided due to poor visibility at rush hour. The death toll was 90 with 173 injured. The disaster made history as members of the public sued British Railways Board for 'nervous shock' which was an important test case in law.
Check out the plaque
that commemorates this accident at Lewisham station.


Closer to home for the Library and Heritage Centre there was an incident on Oxford Street when a bus driver passed out, his bus mounting the pavement opposite John Lewis killing two people. This incident highlights the fact that in 1957 there were only two radio controlled ambulances in use across London and the delays this caused in getting to the scene. Interestingly on arrival it was thought that more people had been injured but the 'blood' turned out to be the juice from squashed strawberries - it was June and punnets of fresh strawberries were on sale.
This book rounds off with a showbiz twist the writer describing how ambulance men inadvertently tended to the famous. An intruder broke into Shirley Bassey's room as a result of a romantic promise she allegedly made to him. He had a gun and shot her agent in a struggle. The police arrived with a police dog 'Flash' and during the stand-off the assailant managed to (somehow) shoot himself in the leg. Eventually it was the ambulance men who coaxed him out and walked him down six flights of stairs as he insisted on walking.
This book captures the ambulance service at a very particular time, most notably the predominance of male crews. What is also interesting is that it highlights issues that still resonate today; discussions about staffing, attacks on staff, and traffic congestion both in London and across the country. What also jumps out is the need for a nice cup of tea to start a shift.
You can view items from our special and historical collections by booking a research session, or by requesting a
treasures tour
.