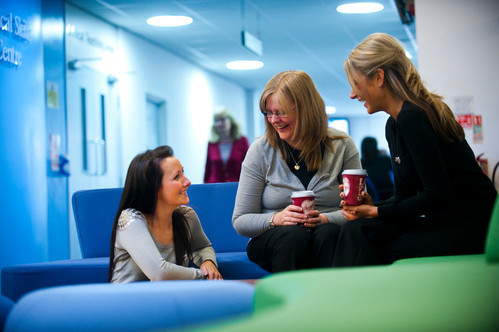 Career fairs can be super busy, typically with hundreds and sometimes thousands of people attending, looking for their next career move.
Don't be put off though; these events are full of opportunities and not just for finding your next role. There's the chance to network with other nurses, explore the types of employers you'd like to work for and take part in free career seminars.
Here's what Julie advises...
Be prepared
First things first, plan what you'd personally like to get out of the fair.
Start by researching the employers who will have stands at the fair. Then, consider:
What roles you are seeking?

Which trusts are you interested in and why do you want to work there?

What are their organisational values?

What are your strengths?
Take along up-to-date CVs with your current objectives and placement or other achievements.
It's a good idea to take some printed copies and have a digital version you can quickly send to a potential employer.

If you need help with your updating your CV, take a look at the RCN online CV writing guidance and student sample CV. You can also submit your CV for our careers team feedback to you on by emailing: career.service@rcn.org.uk
Create a good first impression
First impressions really do count. Meeting an employer at a jobs fair is your opportunity to impress them face-to-face.
1. If possible, approach stands at less busy times
2. Look positive, smile and use a warm handshake
3. Rehearse points to present about yourself, this could include:
Brief summary of your experience
Five positive things you could bring to the organisation
Network
In the world of work, networking is invaluable in creating opportunities. You may not realise it but you network every day. The people you talk to on the way to work, shopping, at the dentist or socially with friends, etc, are all part of networking.
At the jobs fair, you are in a fantastic position to network with other delegates and employers. You may become aware of an opportunity before it is advertised by a colleague or friend-of-a-friend which can give you a good start above other candidates.
If you can be recommended to an employer by an employee they trust and value, who is part of your network, this can help you with progressing.
Employers will be very busy at the careers fair, so always take details of people you have spoken to and make contact a few days after the event. You can do this with other peers you meet too.
Interviews
You may find that some employers are geared up to interview candidates on the day.
This is where the preparation you did right at the start will be valuable. You may also find our career guidance on interview skills and sample interview questions available at really helpful.
Make sure you reflect on your placement experience or if you have been working as a HCA, and think about some examples you can use, such as: team working, communication, dealing with challenges, why you want the role and what are your strengths?
You can find more resources and guidance on our student careers webpage as well as our general careers website rcn.org.uk/careers.
Finally, take a look at the list of 2019 RCN Bulletin Jobs Fairs taking place across the UK and start preparing to wow your next employer.