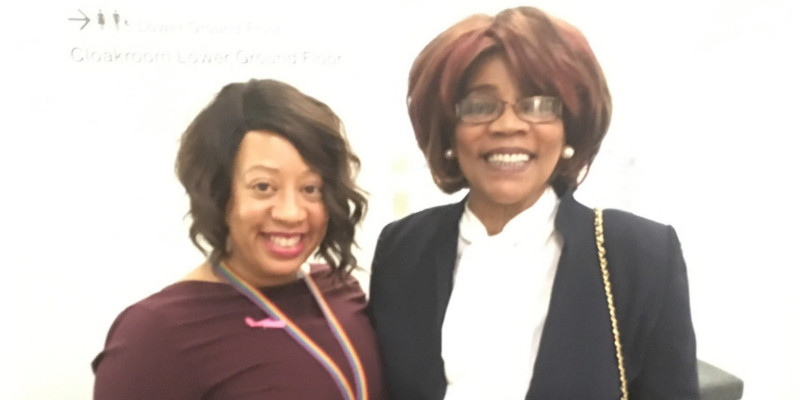 We were delighted to have Professor Nola Ishmael join us as part of our series celebrating nursing diversity. The theme for the talk was nursing cuisine, for which Nola cast us back to the 1960s. She shared her experiences as a student nurse with our audience; adapting to UK culture, grabbing the front row in the TV room at the nurses' home, and swapping plantain for porridge.
"I arrived on a grey August day in 1963. The same day that Ronnie Biggs and his friends robbed a train. A crowd of us from Barbados came over on a plane to London Airport – that's what we called it then. It's Heathrow now. We were so excited, we'd never flown before, we'd never left home and now everything was strange and different.
At first I had been placed on the Isle of Wight, but I'd said, "Why would I go from one small island to another small island?" I wanted to broaden my horizons. So, I was offered Bishops Stortford in Hertfordshire, and after a train journey from Liverpool Street, I was finally at my new home. We were met by the Home Sister. And I tell you, I have never had a better cup of tea since – so restorative.
We lived by rules in the nurses' home. We knew what time breakfast was, what time to get measured for our uniforms, what time to be at the PTS (preliminary training school – remember those?). And we had to study, study, study. Reading the long names in the anatomy books and memorising how to spell them, and learning by heart every step for practical assessments. Who would dare forget one!
We formed study groups and did it the hard way. There was no 'search option' for us, we had to go to the library. Our objective was to pass our exams, getting that blue belt and a frill on our cap was the epitome of success.
There was warmth too. We knew we had to follow order and be decent individuals, but there was chumminess, support and care amongst us too. We would go to parties and concerts and watch television together. You had to get to the TV room early to get a seat for Ready, Steady, Go! – there was none of this round the clock Netflixing. There was also the simple pleasure of chatting in each other's rooms. My friend would say "there's no such thing as gossip, only intelligence gathering"!
Homesickness was inevitable and we were sensitive to those who suffered. Some managed better than others. A few cried, but most of us laughed our way through it. There is a saying 'make a friend before you need a friend' and it was so true for us.
We waited eagerly for letters from home – from our friends and family. And we did our duty in writing to our parents too. Letters home were filled with our studies, what exams we'd passed and what we'd been doing. I never told my father about the boyfriends though! 8,000 miles away and I could still feel the heat on the back of my neck!
I still remember how strange the meals seemed. There was a routine to what we ate. We had to learn to like porridge for breakfast and we quickly discovered that main meals were meat and two vegetables, except for Fridays which was fish, chips and one vegetable. Tea was cake and scones. Did we know whether to put the cream on first or the jam? – Who cared, we were due back on the ward!
But where were the avocados, flying fish and snapper? Where was the rice and peas, curry and rum Christmas cake? Forget it, we were in England now. So, when you got a parcel from home you delved in quick to see what kind of cake you'd got. You knew you were going to share it, but you were excited to check.
We learned to cook too. We didn't come here experts in cooking, but we were frying chicken before Kentucky arrived. Our friends shared their cooking too and they came from all over the world. There were nurses from across the Caribbean islands and Guyana, India and Pakistan (although their doctors came first), Mauritius, Malaysia and the Philippines. The Filipino nurses were expert cooks where I was, but we all tried to replicate the flavours of home. Today we take for granted the choices we have, but then our resources were limited.
Preserving our traditions and the values we'd learned at home was also important. I remember going to a nurse's room to collect a book. She was sitting with a tray on her lap, covered with a cloth and on top of that her dinner of beans and sausages. I said to her that it looked quite posh and she said to me, "My mother told me not to let my standards drop".
I loved every minute of my journey to become an NHS nurse and the career that followed. I knew what I wanted to do – I didn't know how I was going to do it, but I found my way.
It took determination to get here, but I think that novice from Barbados who'd never flown before would be proud of the person I am now (still from Barbados, but an expert in England too!)."
Professor Nola Ishmael OBE's career stretches from the hospital ward through community nursing to the Department of Health. In 2000, her services to the NHS were recognised with an OBE. She currently works as a mentor and motivational speaker. You can find out more about her here.