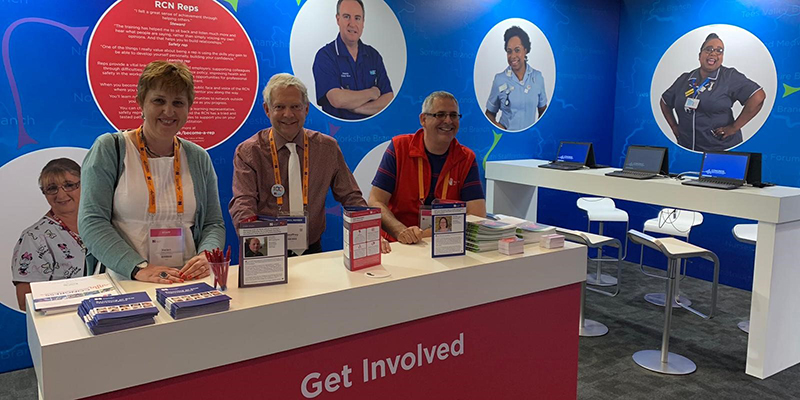 Council's report to Congress and the work of RCNi was also presented. We held a minute's standing ovation to remember all nurses killed over the last year, particularly to recognise the bravery of nurse, Kerry Boden, who was killed during the London Bridge terrorist attack. It was a very emotional moment for all.
The day then moved on to the debates. We had an excellently debated item on clinical supervision and then the item on nursing and the media. Lively debate on how things can be said about nursing, some of which may be factually incorrect but we have no right to reply because of our code of conduct and confidentiality. This debate we could all empathise with as the media often depicts the worst when wonderful care is being delivered daily all over the UK. Great to see so many of our South West members talking from the

lectern

at the debates giving us a great profile.
Later the debate about nitrous oxide used for recreation certainly was hard hitting and shocking and I for one learnt a lot. After lunch the entire Congress delegation were led to sign in Macaton; this was to recognise and celebrate 100 years of learning disability nursing.
It has been fantastic to see such a great presence from our health practitioners and health care assistants this congress. We really are all one big team across the RCN, well done Lindsay Cardwell and her team on the Health Practitioners Committee, now renamed the Nursing Support Workers' Committee.
I also found a bit of time to visit the exhibition and it was lovely to meet the stand holders from around the South West.
Congress moved on to the homelessness debate and I, like many in the room, feel so passionate about this subject. The matter for discussion was changed to a resolution to hold Government to account which was passed. All in all it was a fantastic day for nursing and care showing compassion and all we do and great show from the South West.
In the evening I popped to the reception hosted by the nursing support worker's committee before attending the student social which was at Bierkeller with dancing in the tables. BJ, Chair of Congress, says her knees are a bit shot at this morning!
Now into day three!