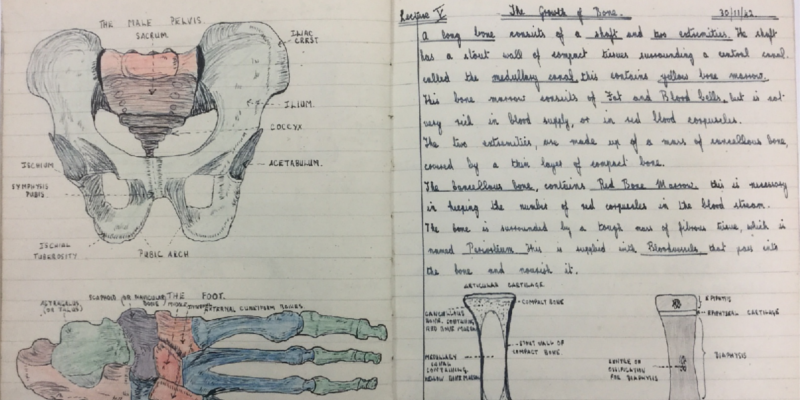 In the Library we receive amazing donations that show first-hand nursing training. The photo above is a prime example, this double page spread from an incredibly neat notebook shows hand drawn illustrations and dates from the 1942. What is fascinating to me is that with these notebooks we also received copies of the person's key nursing textbooks. These don't just show how nursing was being taught at the time but indirectly speak volumes about the conditions of the time. This donation included copy of A General Textbook for Nursing by Evelyn C. Pearce published in 1945. It has incredibly thin paper if you compare it to an earlier edition. A quick measure on the scales puts it at over 500gms lighter than the 1939 edition of the same book. Printing industry war rationing.
However what is most chilling from this donation is the hand written poem, in pencil at the back of Air Raid Precautions, Handbook No 2. First Aid and Nursing for Gas Casualties (1939).
Gases
If you get a choking feeling, and a smell of musty hay
You can bet your bottom dollar, that there's Phosgene on the way.
But the smell of bleaching powder with inevitably mean
That the enemy your meeting is a gas we call Chlorine.
When your eyes begin atwitching and for tears you cannot see.
If not your mother peeling onions but a dose of C.A.P
Should the smell resemble pear drops you had better not delay
It's not father sucking toffee, its that awful K.S.K
If you catch a pungent odour as your going home for tea.
You may safely take for granted that they're using B.B.G
Then come D.M. D. A. D.C. giving of a scent of roses
But despite their fragrant odour
There not good for human noses
If for garlic, or for onions you've a cultivated taste
When in war your meet these odours leave the area in haste.
Its mustard gas, the hellish stuff that leaves you feeling on big blister
And in hospital, you'll need the kind attention of the sister
While geraniums look pleasant – in a jar beside the bed
You must shun their smell in wartime if its Lewisite your dead.
The things you learn from a donation - Simple but effective.
If you'd like to donate items to our Library and Archive collection we'd like to hear from you. We have an online form
here
, please get in touch.