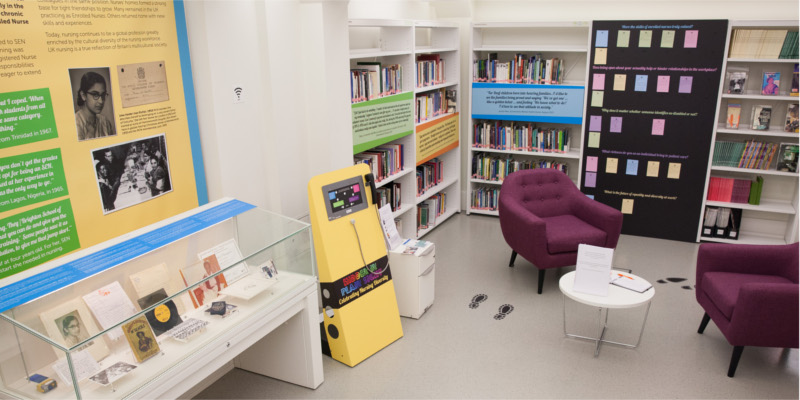 The Nursing History Room at the RCN Library and Heritage Centre showcases the RCN's collection of books on the history of nursing and is home to exhibitions exploring nursing's rich heritage using items from the RCN Archive, loans from medical and health care collections and kind donations from RCN members.
Publications relating to British nursing and its history are added to our permanent collection, and there is a wealth of information to spark your interest in this room; from nursing biographies such as those of Florence Nightingale, Mary Seacole and Edith Cavell, to books on nursing during the wars and the history of mental health nursing and midwifery.
Oral histories relating to current exhibitions are available to listen to here. The oral history collection is comprised of over 700 recordings of individuals from across the nursing profession telling their life stories and personal experiences in nursing. Each example from the collection is accessible by appointment.
Book an appointment on this page
.
Books displayed in the Nursing History Room are available for members to borrow and we also have an archive of historical books, pamphlets and journals that are kept under environmentally monitored conditions in our store. You can book a
Treasures Tour
of some of these historical publications where you can view such gems as a bible owned by Florence Nightingale (1887), Nicolas Culpepper's 'Directory for midwives…' (1684) and novels featuring the adventures of fictional nurses Sue Barton and Cherry Ames from the 1940s and 1950s.The Nursing History Room is also regularly used for research using our historical collection. To book an appointment for research please
contact us
.
The Library and Heritage Centre aims to promote the nursing profession and its history to the wider public, and the exhibitions that have been displayed in the Nursing History Room to date have featured Defence Nursing, Public Health Nursing and Mental Health Nursing. If you missed these you can still view a taster of them in
digital form on our website
.
Our current exhibition, '
Hidden in Plain Sight: Celebrating Nursing Diversity
', highlights the experiences of the diverse nursing workforce including the role of LGBT+ nurses, BAME nurses and Deaf nurses. Also on display in this exhibition is our first edition of Mary Seacole's autobiographical 'Wonderful Adventures of Mrs. Seacole in Many Lands'. This excellent exhibition closes on 10th March so do catch up with it if you haven't yet; and look out for our next exhibition on Pandemics and the History of Infection Control Nursing which opens on 5th April.