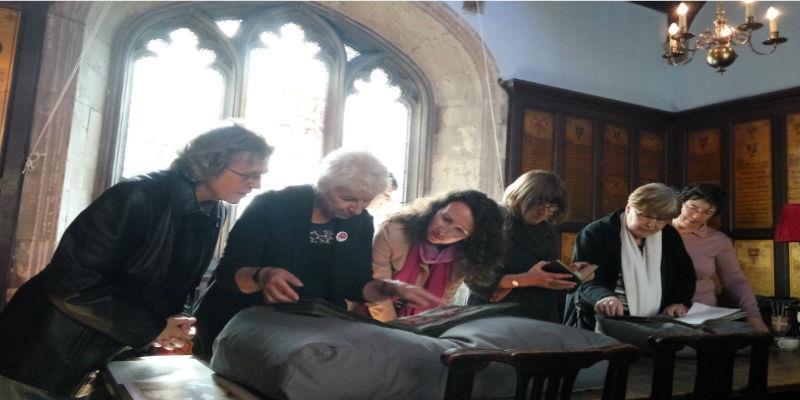 Sue Yasee:
I'm an RCN member and highly privileged to be part of the RCN Archive Project, looking at the lives of ten nurses who served in World War I.
I jumped at the chance to visit the Museum of the Order of St. John and the Imperial War Museum on Friday 15th September.
The day was planned to start at the Museum of St. John in the morning and then later to the Imperial War Museum.
The Museum of the Order of St. John is in Clerkenwell and a fascinating historic gem. I can get lost on a postage stamp but found it easily enough having got off the tube at Farringdon. We were lucky to have a guided tour from the highly knowledgeable Hannah Agass. The is a crypt just a few minutes away from the actual museum which is some feet below street level and you get that feeling of peace and relaxation which seems to emanate from these places.
Anyway the trip feeds into our project because of the work of the Order of St. John in WWI. We were shown the scrapbook of nursing VAD Veronica Nisbit. I think we were told she did not consider herself very good at nursing, probably being rather hard on herself. She was a keen and talented amateur entertainer so I am sure if somebody needed comfort or cheer she was just the person - therefore she was indeed good!. We had glimpses of the work and impressive scale of the set up to deal with the wounded. We saw photos of the bombed field hospital at Etaples. I did not know that had happened.
Around 13.00 we took the tube to Elephant and Castle for the second part of the day the visit to the IWM. We had a fairly quick lunch (nice menu) then we were met in the Exploring History Area by Sarah Paterson, one of the IWM librarians. Sara has worked at IWM for many years and has encyclopaedic knowledge of history resources. She gave us a generous amount of her time and we were able to all go "online" and view materials relating to our project, weblinks service record, links to national archives etc. Obviously time was a bit limited but I was enthused and inspired so will definitely be back.!
Jayne Knill:
As one of the volunteers from the RCN's WW1 service scrapbook project, I have had the pleasure to be involved with helping digitise 10 nurse scrapbooks/diaries from their archive. The aim is to digitise each one, make them available online and research each nurse to discover their full stories.
As a registered nurse with an interest in history this has been a very enjoyable project. It has given me the opportunity to meet new people, learn new skills and visit some places of interest relevant to the project. This was recently the case when a small group of volunteers London based and further afield met along with Molly, a Graduate Trainee who is doing a great job of guiding and supporting us all. We met at The Museum of the order of St John in Clerkenwell. This is a hidden gem of a museum which depicts the history and journey of the order, including the development of the St John ambulance as we know it today. The museum is the original Priory site and also includes a church, crypt and gardens. A very knowledgeable guide shared some First World War related items including scrapbooks, photographs and documents from their archives. She also shared some of her nurse scrapbook research.
Our day also included a visit to The Imperial War Museum library. We were able to hear from our guide about the history of the museum. Importantly we discovered many helpful tips when researching our nurses and were able to receive a-hands on session using their online collections search. We were able to discover documents, photographs and sound archives in their digital resources. I quickly searched the nurse I had last been transcribing and discovered a reference to her receiving a Red Cross medal at the end of the war.
This was a very interesting and helpful trip which was not only informative but inspired us all a little more. Where can we go next?