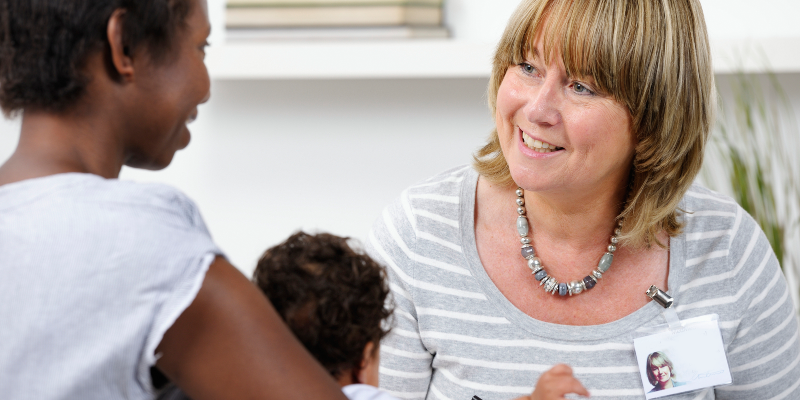 A health visitor once explained that observation was her most important skill.
'Don't ask questions, she said. 'See how the mother interacts with her child, and give her a chance to speak.'
'Eventually she'll ask you questions: "I was wondering if it was normal that…", "My friend said her son doesn't do what my son does…"
'These are your cues. This is where you make a difference.'
While most health care professionals will only see a child if they are unwell, health visitors see every child, from birth to infancy and early childhood – the most critical period of their development.
They get the whole picture – from child nutrition and toilet training, to empowering new parents to access specialised support including maternal mental health or domestic abuse services.
Their work is embedded in every community across the UK. Place a health visitor's caseload onto a map and they will tell you about the quality and provision of services in every town, village or estate.
When my own daughter, Ruth, was born with learning disabilities in 1985, the intervention from my health visitor was life changing. She helped me to access psychological support for Ruth, and even got her a place at a local nursery.
It meant so much to have a named professional responsible for our care - our one constant at a time of great worry.
There is overwhelming evidence that a supportive home environment is positively associated with children's early achievements, their attentiveness at school, physical health and even social mobility later in life.
Why, then, are the people best placed to deliver these public health messages under threat from short-sighted Government cuts?
Why, at a time of increased demand, are the professionals so skilled at bringing together multiple agencies, being reduced?
Failure to protect this unique workforce will let down families like mine, and store up problems for the future.
My health visitor was there when I needed her most. I'll be celebrating her, and the thousands of skilled staff like her, this Health Visitor Week.