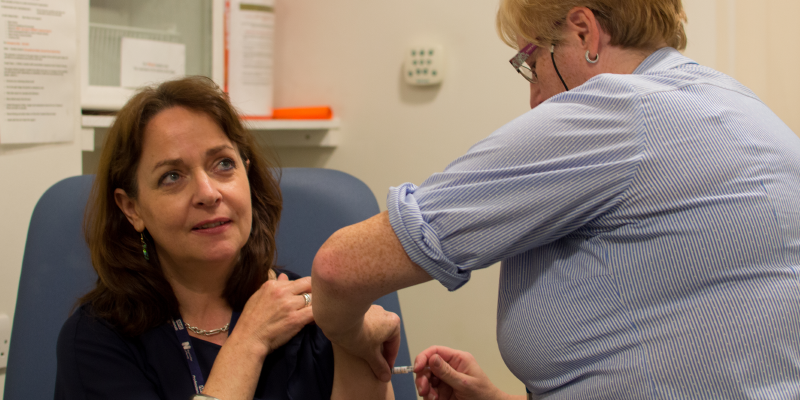 Influenza is highly infectious and spread of the virus within health and care settings is a significant risk for patients and clients. Health care staff are at a much higher risk infection due to repeated exposure to the virus
Public Health England (PHE) estimates
one in four frontline staff may become infected in any season and this is higher than the general population. We know that health care staff transmit the virus and vulnerable patients and those who are immunosuppressed or who have long term conditions are at particular risk of developing serious complications from flu.
Up to 50% of people with flu infection will not have symptoms and many others will just have mild symptoms and therefore may not realise they actually have flu. They will still be infectious and can still pass on the disease.
There has been a steady increase in vaccine uptake within health care staff over the last few years. In England in 2017/2018 it was 68.7% but this is still not high enough. There are still too many staff who are not protecting themselves and their patients. There are also large differences between trusts with the best showing over 90% but the lowest under 40% uptake. Data across the UK also shows wide variation.
People die from flu every year. Even those who were previously healthy can develop severe complications, including bronchitis, secondary bacterial pneumonia, meningitis and encephalitis; the risk is even higher in those who have other illnesses, the elderly and pregnant women.
The vaccine and preventing flu
The vaccine is effective in preventing influenza and could be the difference between life and death. It cannot give you flu although it can make your arm feel a bit sore and sometimes cause a slight temperature, other reactions are very rare.
It won't protect against all strains of flu, but depending on the season and the viruses concerned the vaccine normally provides protection in 50-60% of cases, which means a 50 – 60% reduction in developing influenza.
The effectiveness of the vaccine in those over 65 is less effective but is still worthwhile. In 2018/2019 those over 65 will be given a new [adjuvented (enhanced)] vaccine which will improve the effectiveness for this group of people. Vaccinating health and care staff also helps to prevent the spread of infection in this group.
The vaccine changes annually to include the stains of flu viruses most likely to be circulating, so it's essential to get vaccinated every year. It's also important to note that because the vaccine changes, just because you had a reaction in the past this doesn't mean you will again.
What else can you do
All front line staff should get the vaccine it is a simple way to avoid or reduce the effects of catching flu. You can also minimise the risk of infection by good infection prevention measures, hand washing and making sure there is a clean environment. The virus can be spread between people from hand to hand contact and from touching contaminated things. The flu virus will survive on hands and also surfaces such as glass and plastics for up to 24 hours it was also survive on soft materials such as bedding and tissues for a shorter time.

Eating and drinking healthily and doing regular physical activity will also help you stay well.

It's important to get vaccinated as soon as possible, before the flu season starts, and it normally takes about two weeks to develop immunity following vaccination. Contact your occupational health department or line manager to find out how you can get vaccinated.

This autumn, prepare for the winter ahead. Protect yourself and protect your patients – get your flu jab.
Find out more about our campaign to #BeatTheFlu this winter.