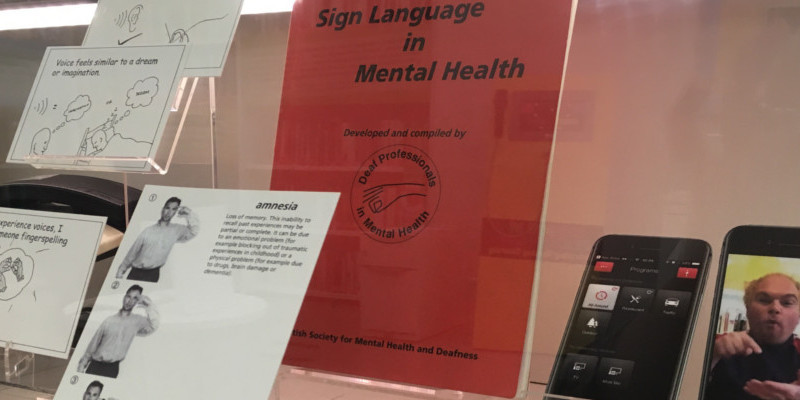 We are asking questions like this in our new exhibition Hidden in plain sight: Celebrating nursing diversity in an attempt to record the richness of nursing and its history. We want our archive to represent everyone's story, so that in another 100 years of RCN history, people can look back and read about the contributions of nurses from all backgrounds. We identified three key gaps in our collection – histories and experiences relating to lesbian nurses, Deaf nurses and Asian nurses – and set about collecting personal stories and items from our members and the wider nursing community, to help fill these gaps.

It's been quite the journey and has taken the library team to many places to meet all sorts of people. We've been digging through our own archives to reveal the stories of nurses like Uma Halder, who came from Calcutta to train in the UK in the 1950s. We also delved into the life of RCN member Cathlin Du Sautoy and her relationship with Hermione Blackwood; two nurses who worked in France just after the First World War and lived out their days together in Hampstead with two adopted children. It's a relationship that throws a very different light on what it means to be a same sex couple in the early twentieth century. Shown alongside these stories from history, we have contributions of nurses working today.
We heard from Elizabeth Anionwu, who gave us her vinyl of Boney M's Brown Girl in the Ring, as it reminds her of feeling just like that; the brown girl in the ring. Helen Cherry lost her hearing at four years old. She spoke to us about what it was like as a student nurse, and how the much criticised SEN training was actually the perfect stepping stone into the profession for her. RCN member Carol Webley Brown gave us a drawing of her, made by her friend ("When l sat my RGN exam, my white friend did a picture of me with afro hair - l love it") and Lola Oni loaned us her belt buckle ("My Aunt had so much faith in me that she gave me my belt buckle before I even qualified. She said 'You'll be wearing this someday'"). Herbert Klein, Deaf advisor and Susan Eagling, one of the first BSL users to register as a nurse, both gave up time to be interviewed by us, videos of which are in the exhibition space. Herbert remembers the challenges with diagnosing mental health conditions in Deaf people, when there weren't signs for words like 'schizophrenia'. The RCN's Dawne Garrett asks "What does it mean to be washed by a dyke? / Hugged by a gay? / Shrouded by a lesbian? / What would they say?" in her poem Lemons on the night shift.

Collecting these nursing stories hasn't been without challenges. Why should someone's sexuality have an impact on them as a nurse? What about nurses who consider themselves as deaf, but are not part of the BSL community? Why are some people happy to tick the disability box, and others are not? Were overseas nurses treated fairly when they were directed straight into SEN training? For the exhibition, we had to think about how we communicated these subjects and recognise that showcasing diversity is about showcasing individual experience; not homogenous groups of people.

Of course, we can only show a snapshot of a community so diverse in our small exhibition space at the Library and Heritage Centre, but our collecting work continues and we want you to help. Every nurse has a history, everyone's story counts and diversity doesn't 'just happen'. So be proactive and help us preserve it. Pay us a visit if you're in London or getting in touch with the Library team.

Hidden in Plain Sight is on display at the RCN Library and Heritage Centre until March 2018, when it will be going on display for a further 6 months at RCN Scotland in Edinburgh. We've got a whole programme of public events exploring themes in the exhibition. Visit www.rcn.org.uk/whatson to register for talks on trans history, deaf poetry and hidden disabilities.