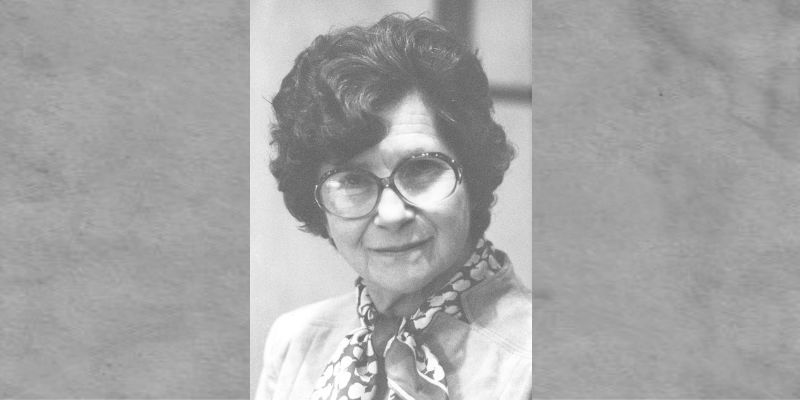 Our oral history recordings form one of the most valuable collections in the RCN Archives. They not only record the events of a life; but they are stories told in a nurses' own words. You can gain a real sense of the person and their feelings about their experiences by listening to the way they tell their stories. We have over 700 of these interviews, most often recorded in the nurses' own homes. They tell stories of their families and upbringing; of their influences and their reasons for joining the profession. They recount their time spent training and progressing professionally; of harrowing and fulfilling experiences looking after patients and navigating hospital politics. Most of the nurses laugh quite a lot as they recount their stories, reliving encounters with amusing patients, ward Christmas parties and stories from their training days. Some recount regrets, and tell stories of tragedy in personal or professional spheres.
We are lucky to have a recording of an interview with Lisbeth Hockey (pictured above), a prominent figure in nursing research. She tells the story of a turning point in her career when she questioned nursing practice regarding pressure sores.

"..the most significant sentence that that sister said to me, which she'll never realise what she did to me, sent me totally on my research career, when she said "If we knew the answer we wouldn't have any pressure sores" or bed sores as they were called in those days, "Go back to your work, if we knew the answer we wouldn't have any sores." I pondered on that, I couldn't sleep on that and I thought to myself, well why don't we search for the answers, but you can't get answers unless people ask questions and questions in those days were, you know, they were crushed, people weren't encouraged to ask questions. After a lecture from anybody, be it a medic or a nurse, they would walk out and they wouldn't invite questions. Nobody admitted that learning was a lifelong activity and nobody would know everything at the end of training." - Dr Lisbeth Hockey, 1996.

Whilst District Nurse Ruth Coles describes an embarrassing experience when training at Stobhill Hospital in Glasgow in the early 1940s.

"The nurses on ward two were responsible for seeing that the main door was locked at night. And if anyone came in late after that you had to take their name and you know give them a telling off. So this night there was a knock at the door, and I went to open the door and it was a man at the door and he doffed his hat and said can I come in and I said no you can't! And I banged the door closed and locked it and there was a banging on the door again and the voice said 'it's Dr Souter, nurse!' So I had to open the door with a red face and let this Dr Souter in. After that, I think it was a couple of years after that, I was sitting on a tram and this man sat next to me. He said 'have you shoved anyone out of the door lately?' Lots of funny things happened that eased the tensions." - Mrs Ruth Coles, 2000.
Many nurses profess surprise at the thought that someone would want to interview them and record their particular story, particularly if they aren't a nurse leader, politically engaged or a prominent figure in some other way. But every story is unique, and represents a piece of nursing history. The oral history collection continues to grow steadily, recording a wealth of detail about the professional and social history of nursing.
World Day for Audiovisual Heritage recognises the need to safeguard our audiovisual heritage from becoming lost, due to the threat of neglect, decay or technological obsolescence. To protect this important collection and support its long-term preservation we are uploading these digital files to our new digital preservation system. This will help us to ensure the interviews continue to be accessible for future generations.
Find out more about the Oral History Collection.
Contact the RCN Library and Archive Service