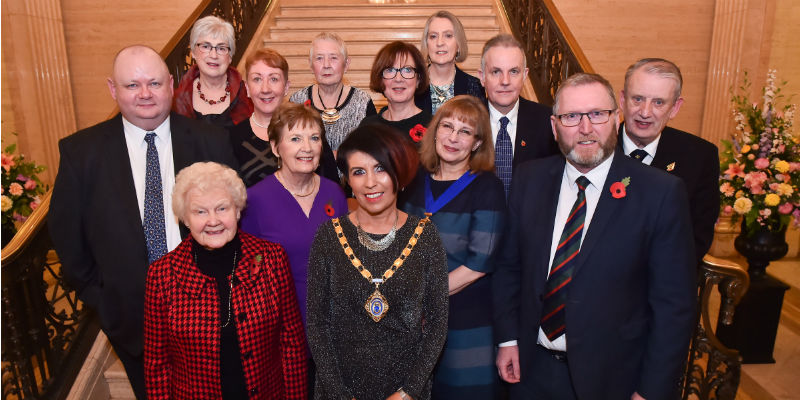 The History of Nursing (HoN) Northern Ireland is a very active network of mostly retired nurses who enjoy discovering and documenting their local history. The group had its inaugural meeting on 2 February 1995. A recently found hand written sheet (unsigned) remarks that "On a number of occasions when I met Miss Peggy Nuttall at meetings in London she said I should start a branch of the Nursing History Society in Northern Ireland. I decided that I could not face her again if I had not got on with it."
Miss Mona Grey, the first RCN Secretary in NI and first NI CNO was a strong supporter of the Nursing History Society and was in attendance at the first meeting in Belfast.
Initially the group took part in an oral history project recording the narratives of senior nurses many of whom had trained prior to the establishment of the NHS. A number of these had served in WW2.

In 2010, the network embarked on an ambitious project to capture the narratives of nurses who had worked during the period of civil unrest known as the Troubles. Interest in participating in this was much greater than we could ever have hoped for. Nurses wanted their stories told, many of which were harrowing accounts of caring for casualties of bombings, shootings and "tarring and feathering". All of the narratives, to which all network committee members had contributed, were published in 2013 in the book Nurses' Voices from the Northern Ireland Troubles. The book subsequently inspired an hour-long BBC NI documentary, "Nurses on the Frontline."
In 2016 all, the nurses who had contributed to the book were invited to a celebratory evening in Belfast City Hall to join several hundred others when the nurses of Belfast were awarded the Freedom of the City.
As the centenary events of WW1 approached the network with HLF, support gathered information about local nurses who had served in WW1. This project produced a booklet Nurses' Voices from WW1, the NI connection and included five pop-up displays. As a group, we have been delighted with the community interest in this project and have given a number of talks relating to the part nurses played in WW1.
I have been a member of HoN NI since 2009 and chairperson since 2010. Our "committee" meet monthly to plan and develop the next project. Presently we are planning to capture the narratives of nurses who went out in the first cardiac ambulance with the mobile defibrillator, which was developed here in Belfast by Professor Pantridge. We are also looking to mark the contribution of a number of local nurses to WW2 in recognition of the 75 anniversary of VE day next year and of course, we will be remembering the 200th anniversary of Florence Nightingale.
This group of enthusiasts has grown in number with each project. Each year we plan a seminar to attract a wider audience to promote our nursing history. This year we hope to celebrate 100years of nurse registration. There is lots of our nursing history to capture!
Anyone who wishes to know more about our group can contact the Belfast office.