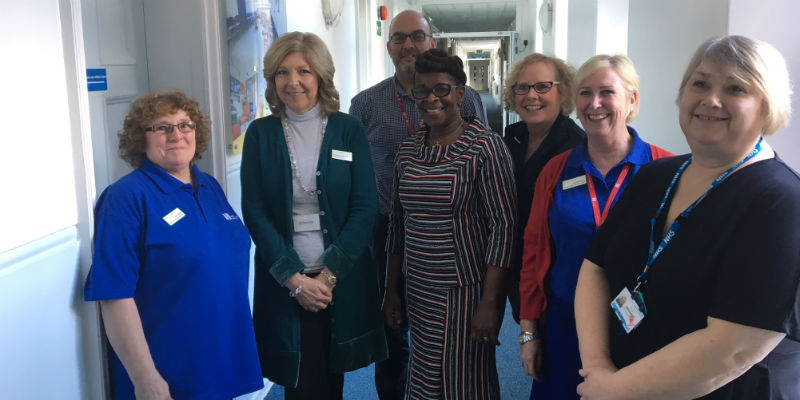 It is one of the largest acute trusts in the country and one of the biggest teaching hospitals in Europe, with more than 17,000 staff across seven hospitals on six sites.
It has an annual budget of £1 billion providing local and specialist services.

We visited St James' University Hospital in the morning (made famous by the programme Jimmy's) and Leeds General Infirmary (LGI) in the afternoon. The Trust is also famous for its maternity units following the series One Born Every Minute.

I worked at LGI in the cardiology unit between 1998 and 2008, so it was really interesting for me to go back and see how things have changed.

At Jimmy's we visited;

Oncology – nursing staff have worked hard on the care of their central lines to reduce blood stream infections and pressure ulcers. This has been achieved by utilising a staff "huddle" at regular intervals throughout the day looking at aspects of safety and those at increased risk. The ward sister was so enthusiastic and really cared about the service she and her team are providing to patients, but also recognising the impact on nursing staff as their work can be very stressful with lots of end of life care.

Older Adults – we were introduced to the work that staff have been doing in relation to the "End PJ Paralysis Campaign" where patients are encouraged to wear their normal clothes during the day and maintain some sense of normality. Staff really seemed to embrace the concept of treating patients as a whole and that they do have a past, present and future.

Breast Unit – we had a very positive presentation from staff involved in Informatics and E-health. We had a demonstration from a team member about how they can track implanted devices and exactly where they end up. If there is a product re-call, they can be found in a matter of minutes rather than a full day, freeing up time for other work. E-medicines were also discussed – there are around 18,000 doses delivered each day, freeing up time to spend on other aspects of care.

We had lunch with nursing staff from across the organisation, including a student and the chief nurse, Suzanne Hinchliffe. We had all our RCN reps there, some who had not met the president before.

At LGI we visited;
Stroke Rehabilitation – we saw a real push to get the professions working across traditional boundaries and two health care assistants told us about working with physiotherapists and occupational therapists to improve rehabilitation programmes. This has seen a reduction in length of hospital stay and has been very well received by patients and families. As nursing staff are better able to assist with transferring patients, this has meant less use of hoists which can be rather undignified. It has made for a better understanding of each other's roles and increased team working and it feels like the workload has been reduced.

L14 – Diagnostic and Interventional Cardiology – this was where I worked for the last five years of my career at the LGI. They have recently had some major reconfiguration work which has involved knocking down walls and changing room usage to develop a "Radial Lounge" where patients undergo diagnostic coronary angiography without the need for a bed. It has been achieved using charitable donations to the Take Heart Charity. It has been open around three weeks and they have already seen no cancellations of procedures on the day for elective patients and acute work from around the region has gone ahead without delay.

Paediatric Theatres – we heard about a "pager system" that has been installed for use by parents when their child is in surgery. Parents are issued with one which means they can be contacted if there is a problem or when surgery has finished. It allows them to leave the ward area and go for a walk or get something to eat without the fear of missing a call. The funds for this were generated from charitable funds and staff-run events.

The Place 2B Room (Children's Hospital) – this has been opened following an initiative where parents were being expected to spend eight hours a day with their child in hospital and is for use by other siblings. Staff were very concerned about asking parents to do this as they saw their role as being under threat and it did not feel fair. However, what they have seen is a reduction in hospital stay by around one week, a three-fold increase in mothers' breastfeeding and less follow up visits to the GP.

We had a fantastic day and it was really great to see such enthusiastic and positive nursing staff at a time when all we hear in the press these days is about staff going home in tears as they have been unable to provide the care that they would have liked. We saw nursing staff that were resilient even in the face of the unprecedented pressures that they face on a daily basis.
Cecilia's words of the day were "Things Can Only Get Better" and it looks like they are doing. She was also very keen to see an NHS website that only celebrates the good work that is done in our NHS.

Have to say, this is one of the best days at work I have had whilst working for the RCN and it made me feel proud to be part of the nursing profession.