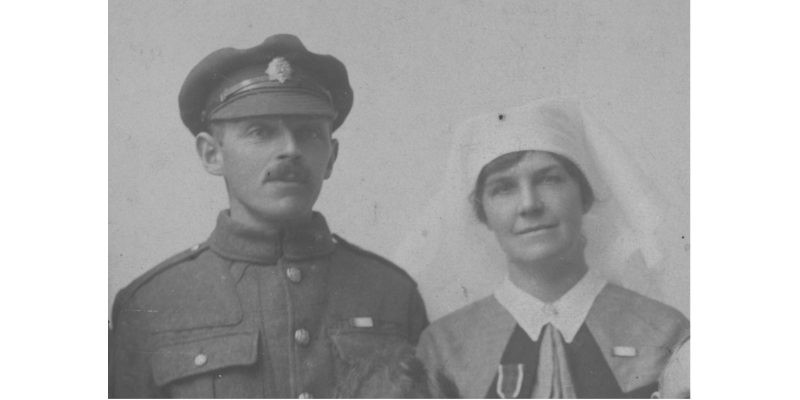 Apart from some personal family history searches, taking part in the Scrapbooks Project was my first real attempt at research. My two great uncles were killed during the First World War so I have always had a particular interest in the subject. As I live in Cardiff, I volunteered as a home researcher. Once the scanning of Scrapbook images was complete, I was tasked with researching Nellie Carter. Her scrapbook contains hundreds of entries - autographs, sketches, poems and well-wishes dating from just after her qualifying as a nurse in 1912 and throughout the Great War. After scrutinising Nellie's Scrapbook images, I found several annotations in the same handwriting-the initials 'EMC'. My starting point was the National Archives online library - I found there were 29 WW1 nurses with the surname Carter - 16 of these were Queen Alexandria Imperial Military Nursing Service [QAIMNS] members, like we knew Nellie to be.
After chasing a few red herrings (an Ethel May Carter, an E. Carter and an Ellen Carter), I found the lengthy Military Service Record for Ellen Mary Carter- 197 pages of information, none in chronological order! I began to construct a timeline from Nellie's scrapbook and reassembled the Service Record into date order - the match was perfect. I cross matched all of the Scrapbook entries with her Service Record and was able to verify and confirm Nellie's identity, including her date and place of birth and nurse training dates. I then obtained her family details from the 1911 Census. I felt the icing on the cake would be a photograph but I was unsure how to proceed. I searched an ancestry website using Nellie's demographics and chanced upon what seemed to be a photograph of her in uniform. There was a contact name on the entry - Peter Carter - so I emailed him.
My persistence was rewarded with an immediate reply from Peter, Nellie's Great Nephew. Peter was delighted to learn about the Scrapbook project, as was his brother Steve and they provided some wonderful details to add to Nellie's story. They affectionately refer to her as Auntie Nell. Peter shared Nellie's photograph album from the Great War, containing images from her time aboard hospital ship HMS Asturias, travelling to Gallipoli, Salonika and Egypt. Peter was also very kind to share personal family photographs - I love the one of Nellie with her brothers in their uniforms - amazingly they all served throughout the war and all survived!
I was surprised and delighted when Nellie's family attended the launch event in London. Both Great Nephews and her Great niece travelled from different parts of the UK and, amazingly, they brought with them Nellie's nephew Bruce, now in his 90's. The family were able to see and touch Nellie's Scrapbook and expressed their gratitude for my research in uncovering her amazing story. Their pride in her is immense and they told me I'm now considered part of their family. I feel privileged to have taken part in discovering the story of such a beloved nurse.
Read more on Nellie Carter's experience in the First World War
here
.
See all of our Service Scrapbooks
here
.
Image of Nellie and Harry Carter courtesy of the Carter Family.