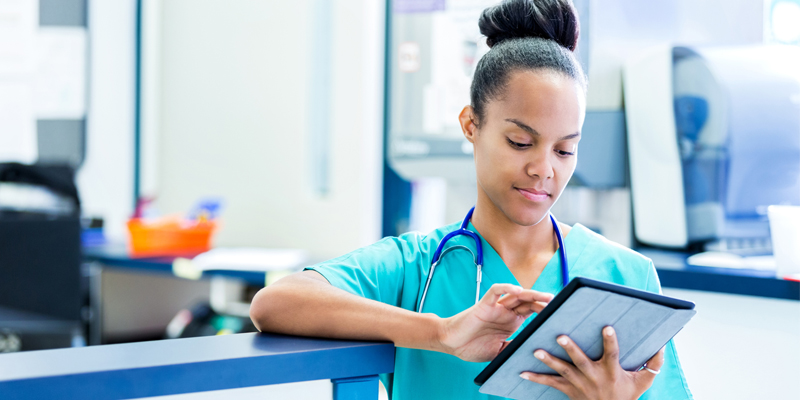 A few days ago, as the NHS approaches its 70th anniversary, Theresa May announced extra funding for the NHS and in doing so acknowledged what nursing staff have been saying for years – that the NHS is stretched to its limits and needs additional investment.

She recognised that improvements to the way care is planned and delivered will only come by embracing technology and digital innovations.

Nurses are playing a vital role in supporting change and development in healthcare.

From new treatments to digital ways of working, our sector is evolving faster than ever to help us deliver the very best care for patients.

One of the key fundamentals to supporting our work is good information sharing between different services. Ensuring that nurses and other professionals involved in delivering care have access to the right patient information is integral for the delivery of high-quality and safe healthcare.

In line with the NHS's plans to move towards more integrated health and care services, the Professional Record Standards Body (PRSB), of which the RCN is a founding member, is developing clinically led information sharing standards.

This is to ensure that the right information can be shared between patients and professionals at all points of care.

By sharing information in a standardised way, nurses will be able to work more efficiently with other services involved in a person's care, including GPs, occupational therapists, care homes and many others.

Patient-centred care is at the heart of nursing: we know that patients want information about their health to be available wherever they access the health service.

We know that patients do not want to have to repeatedly give their information to health care professionals after their initial contact.

That is why it's so important that nurses are involved, right from the start, in the development of electronic health records that are fit for purpose, and crucially, transferable across health and social care organisations.

One of our reps in Devon told us about how she became a digital champion in her workplace, helping to shape their move to paperless records. And although she was hesitant at first, the benefits are clear – nursing staff are able to access the most up to date patient information wherever they are and this frees up time to spend with patients.

We've recently been working to develop a resource for all our reps to support employers and frontline staff to implement local e-health record systems and make sure it works for employees as well as patients.

We hope this will support the move from paper based to digital care and support plans which will improve communication between patients and staff, in turn leading to safer care.

In addition to this, PRSB has recently developed standards for transfers of care, so that professionals have access to a patient's information when they are moved between services.

This is important as we know good information sharing can help community nurses and other professionals to offer the best follow up care possible, leading to a reduction in hospital readmissions and better and safer care for patients.

I know many of you will be interested in shaping this work - do visit our website and find out how you can get involved.