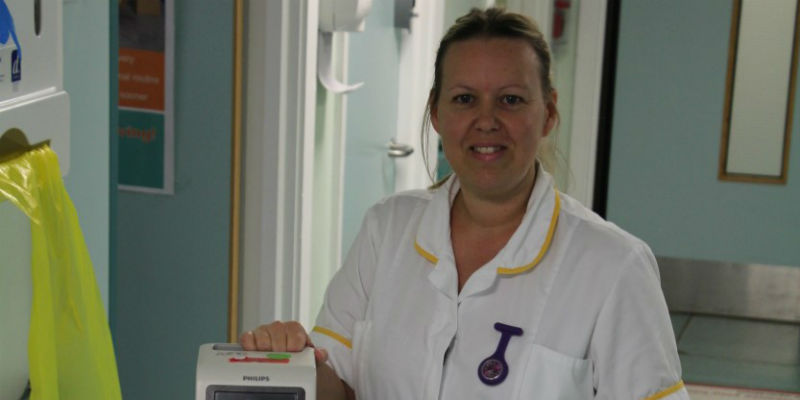 I missed out on being in the first cohort because my original maths and English certificates had been destroyed, so I had to take my GCSEs and join the second cohort after I'd passed them.
North Tees and Hartlepool NHS Foundation Trust advertised for people to apply for the trainee nursing associate course with Teesside University.
I'd been a health care assistant at North Tees Hospital for twelve years and I wanted to go that step further. I had to get permission from my manager for funding reasons because the trust pays you at TNA level to do the two-year course.
My manager was very supportive and encouraging. I had to have an interview with the practice placements head at my trust and some university staff. It was really nerve-wracking because it was a new course and a new role so I couldn't even research how to prepare myself.
I found out within a couple of days of the interview that I'd been successful. It felt really strange making that move and progressing to the next level of my career. I'd started my nurse training a few years ago but then I was diagnosed with cancer and had to drop out, so as you can imagine I was really pleased to be chosen for this and get back on track. There wasn't much time to think about it; I heard in February and started in April.
I really didn't know what to expect. I was a bit scared because at 43 it's been a long time since I've been in education. I was really pleased about the student discount though! My role entails 7.5 hours a week at university every Thursday and then 30 hours on a placement basis. Leaving my HCA outpatients role was quite a big deal for me. Luckily I've got a lot of varied experience because I've done bank shifts and also used to work in community a long time ago. The worst thing for me is the academic side; having to produce essays and prepare for exams.
Sometimes I'd have my doubts and think I'm really struggling here, but Teesside University are really good. You can book appointments with your tutors and speak to someone about whatever the problem is. You can send your essay off for them to check through; they're really supportive and don't try to make things difficult for you.
I'm definitely more of a hands-on person. I struggle with the essays although I have passed them all and I learn more in my placements while I'm actually doing things. You get a mentor alongside you on your placement and I do find I pick up more skills there than when I'm writing essays. Essays are just to show your knowledge and understanding. You have to do case studies, reflections, critiques, exams, essays - and they are so in depth.
I don't think I've ever read so many books and journals, just looking into everything in so much detail. I'm handing in my first-year portfolio on 4 April. It reflects a year's worth of what I've done on placement. It includes decision-making, infection control, aseptic techniques, competencies, evidence-based practice. You have regular meetings with your mentor to prove you've shown them the evidence of you achieving the course learning outcomes.
No day is the same. You never know what you're going to get when you walk in. You could have a completely different schedule even with the same patient; I get quite a varied range in the hospital. I've had outpatients, A&E, cardiology, theatres – I rotate every 10 weeks – I've gone outside as well, to GP surgeries, prisons, hospices; it's quite a vast range of experiences. At the end of my two years I can choose. I've got another year yet and I might change my mind. I'll have been in health care 14 years next month. I started on a temporary six-month contract to get my NVQ and now I'm doing my nursing associate training. Eventually I'd like to be a nurse. At the moment I'd like to be a gynaecology specialist nurse.
I can't get my head around the fact that in another year's time I'll be going onto the register. It's so surreal.
I'm just so grateful for the opportunities and support I've received to be able to progress. Hopefully I'll make my manager proud that she's pushed me and this is the result.