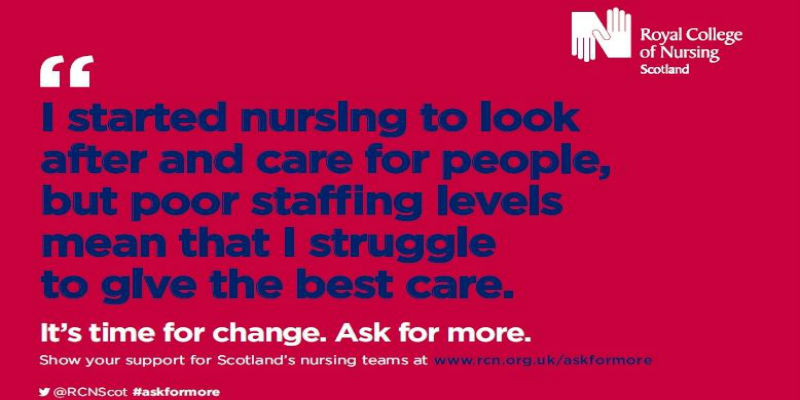 As an RCN representative, I am often asked why I am so passionate about the Senior Charge Nurse (SCN) role being non-caseload holding. In my opinion SCN's are the gatekeepers to safe and efficient care. SCN's are accountable and responsible for the standard of care in their department. They have a burden of expectation far greater than many other frontline staff.
Presently the SCN post is unattractive for a lot of very capable nurses. Some time ago, I asked a very experienced nurse if she had applied for the vacant SCN post within her ward. Her reply was "I thought about it but decided it was not for me. I feel it is a big jump in responsibility with little reward. Everyone wants your time and attention, it is a very difficult job to do well if you want to have any sort of work life balance". I remember thinking that this was a surprise as this particular nurse demonstrated the qualities necessary to be a good charge nurse and she had struck me as relatively ambitious.
Sometime later a conversation with another colleague made me reflect on my interpretation of the decision of the experienced nurse. This colleague illustrated perfectly the burden of balancing the responsibility of her SCN role with her responsibility as a nurse providing direct patient care. She was describing how as a SCN she felt she had to 'run the gauntlet' when providing direct care for her allocated patients. Her focus in that particular part of the day was to move around the ward without making eye contact with anyone or being distracted by anything else in order to complete the care for her patients. As well having her overall accountability for the ward she also had personal accountability for the direct care she was providing and felt that she had to prioritise in this way.
In my opinion, to practice effectively the SCN role needs to be non-caseload holding or supervisory. The SCN should be an additional member of the team to provide clinical expertise, leadership and support - not counted in the team and allocated a number of patients to care for. This would enable the SCN to balance the key elements of the job. A position supported by The Francis report (2013) who strongly recommended that the SCN should be supervisory. Research shows the benefits ranging from improved quality care indicators, improved patient outcomes, increased safety, health and wellbeing of staff and increased productivity.* The SCN role is one a leader, a manager and a clinical expert. However to carry out this role effectively the SCN needs to have not only the capability and capacity but the time to deliver this. Too many Senior Charge Nurses are overloaded with competing demands.
Nursing leadership is crucial to patient outcomes and should be right at the point of care. SCN's need to be given the time to lead, they need to have time to support and develop, as well as manage their staff. They need to be visible and to both patients, their families and their team. They need to be able to lead by example. Ultimately, the role needs to be attractive career opportunity for our nurses of the future, something to aspire to.
If we are looking to improve quality and ensure staffing for safe and effective care, then it's vital that the Health and Care (Staffing) (Scotland) Bill recognises and enshrines the non-caseload holding status of Senior Charge Nurses in law.
Find out more about the Ask for more campaign
*(Willis 2012, Rankin et al 2015 and Somerville & Morrison 2018)