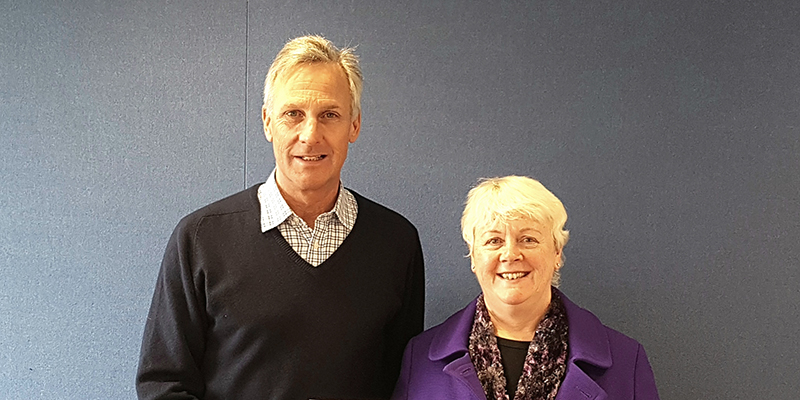 Recently I wended my way on the A roads through Devon and into Dorset, plenty of time on the two-and-a-half-hour journey to admire the scenery that never fails to lift my mood, even on a dull winter's day. I was on my way to meet Richard Drax, Conservative MP for South Dorset. Mr Drax and I last met during the RCN pay campaign last year - I found him receptive to our message and he agreed to be an RCN Pay Champion. Following our last meeting he spoke in the House of Commons about his concerns around the shortages in the nursing workforce, quoting the RCN several times.
This positive experience meant that I was approaching the meeting optimistically, no thoughts that this was 'just another Tory MP who wasn't interested in the plight of our members'; I made my way, rehearsing in my mind the areas I want to cover in our meeting. A subject I knew Mr Drax would want to discuss is Brexit as he is pro and will have been aware of the RCN call for a People's Vote. Across my patch, Dorset and Cornwall, I only have Conservative MPs now and of course many are supporters of Brexit, as are many of their constituents, including many of our members. It is important that I acknowledge that although Congress voted to support a People's Vote, just as the country is divided, many of our members do not agree. We staff are tasked with presenting the facts and views of our members along with what our members tell us about the impact of political issues on their working lives.
Mr Drax as I predicted spoke about Brexit and then we moved into nurse education with Mr Drax questioning the need for graduate nurses. This was a fabulous opportunity for me to explain why it is important that first-level registered nurses are a graduate profession. I was able to explain the complexities of professional nursing, the responsibilities shouldered in a vast variety of settings. I spoke about nurse shortages, the retiring workforce, new education pathways such as nursing associates and nurse apprenticeships. I explained the challenges for nursing supporting the many different pathways with supported placements when the workforce is on its knees. I spoke about all of this in the context of safe staffing as an introduction to the Staffing for Safe and Effective Care Campaign because I know it is something I will want to come back to him on in the near future. I left feeling that the meeting had gone well. I definitely felt 'respectfully heard', which is all I can hope for in such circumstances.
My journey back towards the office was equally pleasant and I reflect that, whilst he was aware of some of the statistics, and speaking to constituents and local NHS leaders had given him a bit of an insight into the issues, I had been able to make a real positive difference by sharing my knowledge and the stories of our members. I knew that I had added to his knowledge and understanding of the challenges faced by the nursing workforce.
Like all of the Conservative MPs in Dorset, Mr Drax has a healthy majority, but he is still mindful not to alienate his constituents, who strongly support our much-loved NHS. Cultivating a positive relationship with them can make a real difference for our members and the issues important to them. When we have positive, respectful relationship, setting aside our personal or party political views to discuss real issues, we are much more able to engage with them for example when we want to increase awareness of campaigns like Staffing for Safe and Effective Care or if we need their help to table a particular debate on a nursing issue in the House of Commons. We don't have to agree on party politics or share their values. I am there to present the views and experiences of members in my area. MPs like Mr Drax are in post to serve those very and they need and want to hear what we have to say.
I am there to share knowledge because that is the power I have.