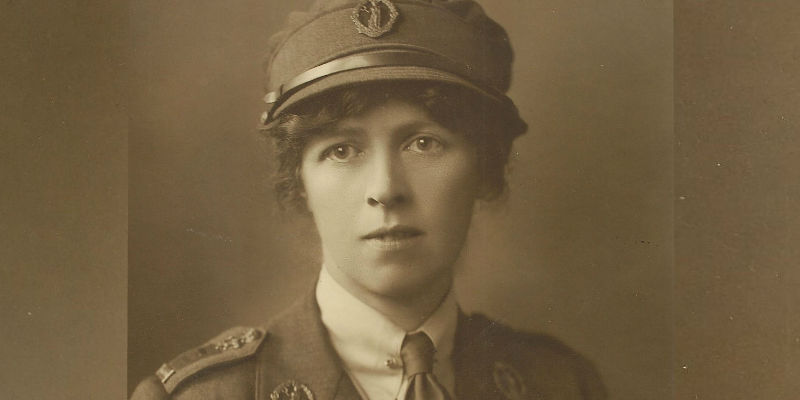 Author Simon Boyd writes about his new book on his grandmother, VAD nurse Sybil Grey:
This is the story of the inspirational Lady Sybil Grey, daughter of the fourth Earl Grey, who transformed her family home at Howick Hall into a hospital in the First World War, before travelling out to Russia in 1915 to help set up a British Red Cross hospital in the war torn capital Petrograd.
There she met the Russian Empress, led a field hospital to the front where she was wounded in the face by a hand grenade, shielded the murderer of Rasputin and witnessed the Russian Revolution on the streets of the Russian capital.
Later, she spent nearly a year in France leading the Women's Legion, the first all-women unit of ambulance and staff car drivers attached to the British Army.
Her involvement with hospitals and modern medicine notwithstanding, she was also interested in complementary medicine, particularly the cure involving autosuggestion propounded by Emile Coué in France, and she was a friend of the Queen's homeopathic physician Dr Margery Blackie.
She travelled widely all her life. Her first great love was Canada where she lived for seven years accompanying her father who was Governor General from 1904-11, visiting its remotest outpost in the Yukon and revelling in its wild places and forests. She travelled round the world and to South Africa, Rhodesia and Kenya, as well as accompanying her husband Lambert Middleton on a trip to South America. She married and settled down to raise a family in her 40s.
She lived through times of huge social and political change and saw at first hand both the heyday and ultimate decline of the British Empire. Born into a world of wealth and privilege, she was most at home fishing in the wild rivers of Canada and New Zealand.
To find out more about Lady Sybil's amazing story, told movingly from her letters and diaries, you can purchase Simon Boyd's book, Lady Sybil: Empire, War and Revolution, from Hayloft Publishing (£25):
www.hayloft.eu
The centenary of the Anglo-Russian Hospital was celebrated at the Royal College of Nursing in 20 Cavendish Square as part of the Library and Archives Exhibitions and Events Programme in April 2016.