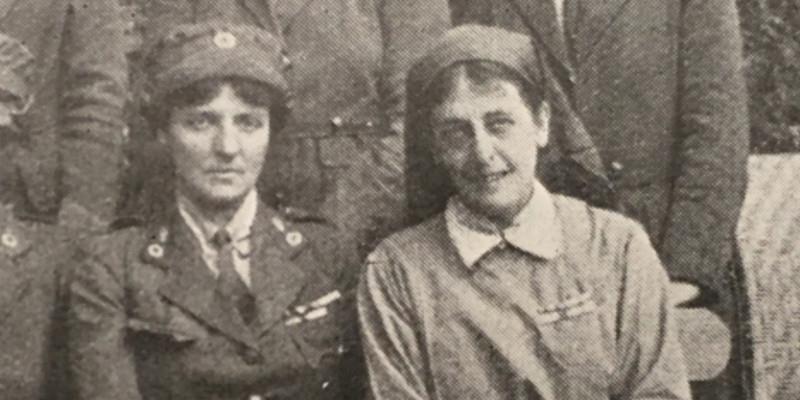 Nursing is a diverse workforce caring for an increasingly diverse population. We are all different, and nurses see those differences every day, more intimately and personally than most. Here at the RCN Library and Archive, we have begun the task of ensuring that this richness is recorded in history, collecting the stories of Black and Minority Ethnic (BME) nurses; Lesbian, Gay, Bisexual and Transgender + (LGBT+) nurses; and disabled nurses.
Right now, we are particularly looking for lesbian nurses and healthcare staff to get in touch. In our historical collections, we have no material relating specifically to the contributions and experiences of lesbian nurses. We need to correct this. To do this we need your help.
Our research has taken us right back to the First World War, to RCN member Cathlin du Sautoy. Cathlin worked under the French Committee of the British Red Cross in the devastated areas of France, principally in Reim with her nursing colleague Lady Hermione Blackwood. Cathlin and Hermione went on to spend their lives living and working together. In France, they adopted two children together and the family returned to the UK where Cathlin and Hermione spent the rest of their days in Hampstead.
The two women almost certainly wouldn't have referred to themselves as 'lesbians' because the term was not in everyday use at that time. However, looking back at the lives of these women, they (like other women at this time) clearly lived their life as a loving couple and formed a close family together.
The story of Cathlin and Hermione, and what they achieved together as nurses should be told. Today, we have an expanding network of LGBT+ groups and pride campaigns, with activists and advocates working in all areas of healthcare. We want to tell their stories too.
If you are a lesbian and a nurse or healthcare professional, please take a look at the questions below and send us your thoughts. You may do this anonymously and any quotes used in the exhibition will also be anonymous, unless you choose to be named. For some, sexuality may be incidental to your work as a nurse. Yet, there may be ways in which you have experienced how sexuality can affect relationships with colleagues or patients.
How important is for you to be "out" at work about your sexual orientation?

Do you see an impact of that decision in your personal life and wellbeing?

What, if anything, has influenced your decision? Working environment, religion, colleagues, family or friends?

Nurses are privy to very intimate, gender related details of their patients. Has your sexuality ever helped or hindered your relationship with those patients?

For you, what is the future of equality and diversity at work?
We also collect oral history interviews for our archives. Let us know if you would like to be interviewed about your experiences.
Send your thoughts in an email to RCN Library and Archive.
Write to the RCN Library and Heritage Centre, London, addressed to the Audience Engagement Team.
Tweet us @RCNLibraries or give us a call 0345 337 3368.