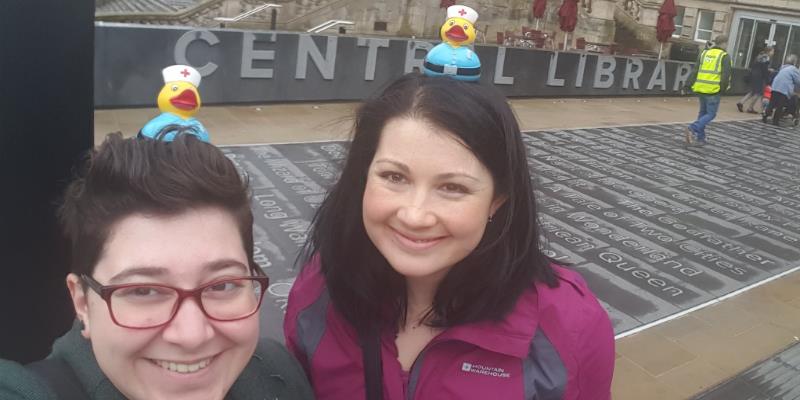 The library team will be located at the Connectivity Lounge at Congress this year. Here the team will guide you on a host of facilities that we will have available for you during your time at Congress.
The services range from drop-in-training sessions where a member of our team can assist you with how to use the library catalogue. This includes using the databases such as CINAHL, Medline, Emcare to mention a few.
You will also have the opportunity to search for your nursing ancestors on our nursing registers, which are available through Ancestry.com. A member of the library team will be on hand to show you the best techniques to get results.
If you are interested in getting connected through social media, have a burning desire to follow us on Twitter or check out our Instagram account, there will be help available at the Connectivity Lounge to get you started. So if you have any trouble accessing your social media account to take part in our selfie competition or you need help setting up a social media account, look no further than our friendly team!
Our selfie competition which has now become a much loved tradition from our library department, consists of one general rule. Snap a selfie making sure your theme relates to being at Congress 2018. Make sure to use the hashtag #RCN18 and if you follow us @RCNLibraries you could win one of our much desired rubber ducks as modelled by our library staff above. Find out which ducks we'll have for you to add to your growing collection this year.
Tag your photos to:
Twitter - @RCNLibraries
Instagram - @RCNLibraries
Feel free to be as creative with your selfies as possible. Being at such an amazing event and in a wonderful location should give you plenty of opportunity to get creative!
Another much loved item from our library to be showcased at Congress will be the handling collection. The handling collection is a time capsule of nursing history that contains a host of memorabilia from nurse badges to graphic novels to Chatelaines, always a fascinating point of interest for anyone interested in the history of nursing.

If, however you would rather just come and relax in our Connectivity Lounge please feel free to do so. We have a soft furnishings area available where you can just come and relax whilst using our free Wi-Fi and printing services as well as a phone charging tower. So do drop by and say Hi!