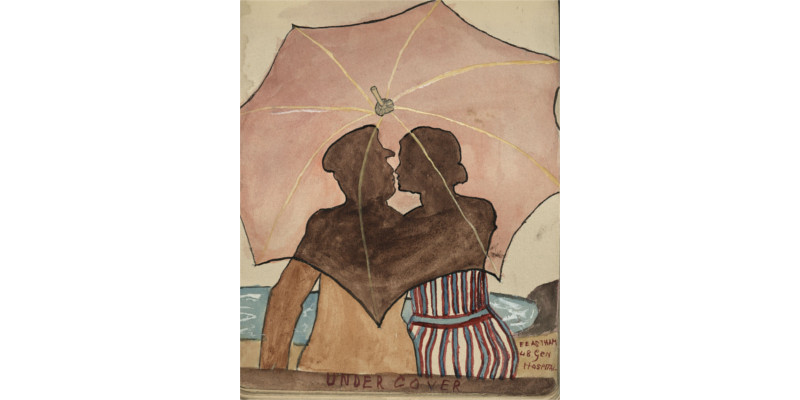 Being a nurse in the First World War meant you were liable to be admired for more than just your nursing ability. Men who were hospitalised from the front line most likely hadn't seen women in a long time. Then suddenly they would spend days, weeks, months in the presences of nurses. Unsurprisingly, love (and lust) thrived in the hospital wards, especially as at this time nurses were required to be unmarried. In the ten First World War Nurse's scrapbooks we have, not one of them is without proclamations of admiration from patients to their nurse. These declarations come in a variety of forms, but most try their hand at writing poetry. One member of the Royal Army Medical Corps pens a very bold poem to nurse Mabel Pearce;
Another patient, Harold Ross has similar intentions, and lists the suffering he goes through to please Pearce;
Unfortunately, we do not know how Pearce responded to these declarations. By Ross' account it seems Pearce was rather adept at continuing nursing unperturbed by the constant reverence she received. Another nurse, Florence Blythe-Brown, had a similar experience. Patient Sparkes writes of her;
Her ward sister, Sister Wilson, said if a young man did not propose to Blythe-Brown at least once during his convalescence then he wasn't a normal man.
The books also show another side of war time love. As part of the collection we also have Blythe-Brown's diaries for 1917 and 1918. They are filled of worry for someone she only describes as 'H'. On the 23rd of April she is 'Feeling so anxious about H. Not sleeping very well.' This is not a feeling that diminishes, she is suspended in worry for the entire war. Her entry for the 30th of November 1918, a few weeks after the war ended, reads 'H came. Thank God he is safe.'
You can read the full scrapbooks, and more about the nurses who kept them on our Service Scrapbooks website.